Some people will tell you that all goals are equal, but football fans know that some are more equal than others.
They might all count as one, but the way a ball crosses the goal line and hits the net is crucial in providing satisfaction not only for the goalscorer, but for the fans as well.
Strap in, it's about to get satisfying.
Crossbar and into the roof of the net
Think Tony Yeboah against Wimbledon. Think Tony Yeboah against Liverpool. In fact, just think Tony Yeboah.
A strike that hits the crossbar, meets the turf, then has enough force left in it to hit the roof of the net is the beautiful game's version of the exclamation mark.
Rising into the roof of the net
Usually the result of what football wordsmiths call a piledriver, once again the roof of the net makes its way into the list.
If you've ever seen an exponential graph you'll know that the logical conclusion of a piledriver would be the entirely vertical trajectory of the ball, were it not for the intervention of the roof of the net.
Rolling up the back of the net
Some top spin is required on the final application from the striker's boot for this one.
Usually a calm finish, perhaps with the goalkeeper already rounded, Thierry Henry is a fan.
Hitting the camera in the stanchion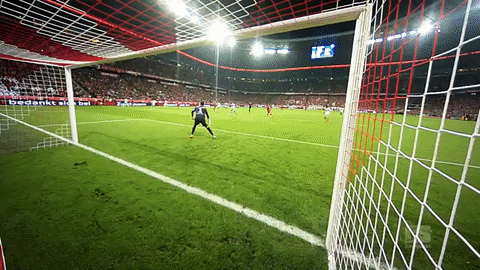 Are you a professional footballer who feels like Big Brother's always watching you? Smash a football into the goal-mouth camera, you'll feel much better.
Crossbar to side netting
A rare occurrence and one which usually requires a narrow angle, as Charlie Daniels ably demonstrated against Manchester City earlier in the season.
A variance on the "in off the crossbar" routine, the ball doesn't so much thwack the woodwork as gently kiss it on its way in, as a mother might her son as he returns home from school.
Curling into the side netting
Option one: Ball curls in towards the goal, creeps inside the far post, brushes the side netting and makes its way around into the back of the net.
Option two: Ball curls away from the goalkeeper towards the far post, which it catches, directing it into the side netting and into the back of the net.
Stuck in the stanchion
The Holy Grail of football finishes. Is there anything more satisfying than watching the keeper have to exert effort in retrieving the ball you've just smashed past them?
The answer is no.