Steve Clarke once got into trouble for losing his younger brother on a trip to see Scotland play England at Wembley.
The Scotland manager hopes to gain a lot more from the latest in the series of the world's oldest international fixture.
The two teams meet at Hampden on Tuesday to mark the 150th anniversary of the first international – a goalless draw at the West of Scotland Cricket Club in Partick.
Clarke's side go into the game on a high having won 11 qualifying matches in a row. Friday's 3-0 victory in Cyprus made it five wins from five in the Euro 2024 qualifiers and kept open the possibility of Scotland qualifying on Tuesday.
But Clarke will put aside thoughts of Germany next summer as Scotland host a side who will provide a stern test of their recent progress, as well as sparking memories of previous meetings.
When asked for his own, Clarke referenced a famous Wembley win in 1977 and his own more difficult experience two years later.
Clarke said: "Gordon McQueen, header, the big man sadly no longer with us. I remember that one, he jumped so high, an incredible, incredible goal.
"I remember as a young man, the year Scotland fans got banned from going to Wembley, I remember being there. My sister and her husband lived in London at that time and he was in the Met Police so he managed to get a couple of tickets for us.
"I remember somewhere between the stadium and getting back to my sister's house, I lost my younger brother Michael and my sister gave me an absolute hell of a time.
"But he turned up eventually. He jumped in somebody's car and got a lift back, because the tubes were off, the buses were off, you had to walk. So he managed to get a lift off some random geezer and made his way back.
"I'd have been 16 at the time so Michael would have been 12, so I can understand now why my sister was so upset."
Clarke stressed that the game means a lot to English football fans as well as Scots.
"They like to beat us," he said. "Don't make any mistake about that, don't think it's more important to Scotland than it is to England. Having lived in England for quite a long time, I understand it means a lot to them as well.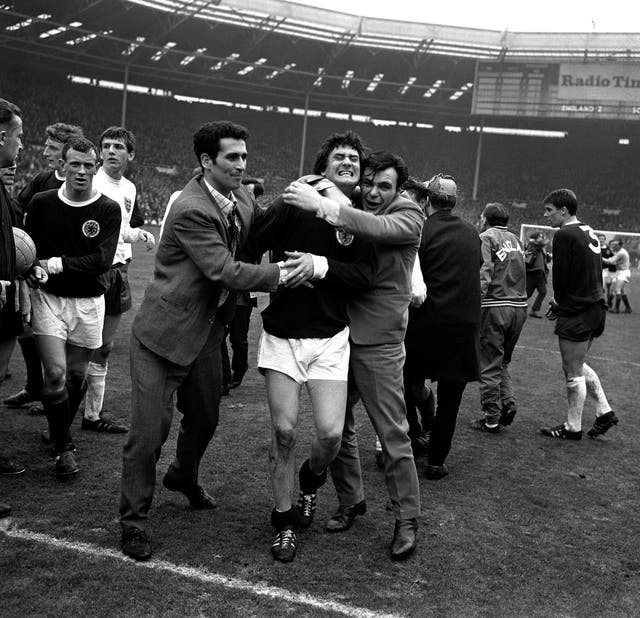 "The memories are great. I think we became world champions when we won in '67, didn't we? All those memories, the 9-3 game, maybe not such a good memory. There's loads of memories and hopefully we can give them a few more."
Clarke's side held England to a goalless draw at Wembley in the European Championship finals in 2021 and he hopes Tuesday's game will help his side prepare for some challenging competitive matches.
He said: "Certainly in my lifetime England have probably moved a little bit further in front. We are trying to close the gap on them and we will find out how much we have closed the gap.
"For us, it's just about trying to continue to improve. I speak about it all the time, game to game. Obviously we played well in Cyprus, it was a comfortable evening and now we see what we can do against a team that's nominally a pot-one team, always in the later stages of major tournaments.
"That's the benchmark we want to judge ourselves against and we will find out how close we are.
"I've got some things I want to see on the pitch, testing ourselves against top opposition, which we are going to come across more often in the next 12-18 months.
"We play this game and then we go over for a very competitive game against Spain, and then we play France in a friendly. And then next year, after we have hopefully played at Euro 2024, we go into a Nations League group against another three of the top European sides.
"This is where we are as a team and this is where you have to challenge yourself and get better. I believe the more you play against the top sides the better you become. You might suffer a little bit at times but if you suffer in the right way, you can only improve."
Scotland will qualify for Euro 2024 with three games to spare if Norway and Georgia draw with each other in Oslo at the same time as the Auld Enemy encounter but Clarke will not be seeking updates.
"I think the crowd might keep me up to date," he said. "I won't be monitoring it, I will be watching the game. That's my job, not to worry about what happens elsewhere."