Warren Gatland believes that a 24-nation Rugby World Cup would help to grow the game.
An expansion from the current 20 countries for Australia 2027 or the United States four years later has been mooted in some quarters.
The current tournament in France has already been highlighted by outstanding performances from lower-ranked teams.
Uruguay pushed France for large parts of a gripping Pool A encounter before losing 27-12, while Portugal gave Gatland's Wales plenty to ponder and Chile had their moments in games against Japan and Samoa.
"I thought Uruguay were outstanding – it is brilliant for the game," Wales head coach Gatland said, following a 28-8 victory over Portugal.
"Portugal were fantastic and showed a lot of enterprise, and you could argue that Uruguay were pretty unlucky in a few situations (against France).
"I think it is important that we continue to develop from a rugby perspective to help develop these tier two nations.
"There might be a situation where we can increase the number of teams in the World Cup to 24, and that would continue to help grow the game.
"That is an important aspect. You don't want top tier nations dominating, you want upsets – as long as I am not a part of it!
"I think it's a real positive going forward to see teams competing and pushing other teams close."
Portugal returned to the World Cup stage following a 16-year absence when they tackled Wales at Stade de Nice.
They qualified for the tournament by winning a repechage competition in Dubai, and full-back Nuno Sousa Guedes has no doubt that regular exposure against leading nations is what Portugal require.
Guedes and company made life tough for Wales, trailing by just four points approaching half-time, while they did not concede a bonus-point try until the game's closing seconds.
"If we could keep playing games like this, it is the main thing," Guedes said.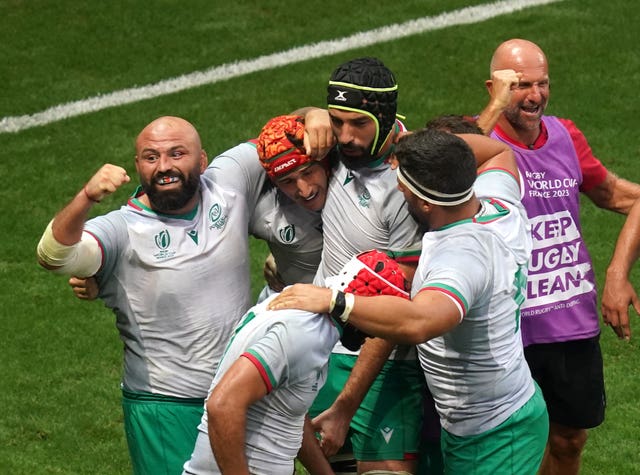 "For the kids back home who are starting out, it would be a very good step.
"In Portugal, it is always soccer. We want to show the world that it is not only soccer.
"We have the numbers in terms of rugby and some good kids coming up. I think we have the capacity."