A "heartbroken" George Russell struggled to hold back the tears after he believed victory slipped through his hands in Singapore on a frenetic night when Red Bull's winning streak finally came to an end.
Max Verstappen arrived in the city-state on a record run of 10 straight victories, with his Red Bull team unbeaten this season. But Formula One's all-conquering team were nowhere here – dashing their hopes of becoming the grid's first 'Invincibles'. Verstappen finished fifth.
Instead it was Carlos Sainz, who was crowned the first non-Red Bull winner of the year.
The Ferrari driver took the chequered flag just eight tenths clear of McLaren's Lando Norris, following another fine drive by the British star, with Lewis Hamilton third for Mercedes. Russell's bid for victory ended in the wall on the last lap with only nine corners left.
"In the moment you want to curl up in a ball and be with nobody," said Russell as he cleared his throat and his eyes red.
"It is the most horrendous feeling in the world when you are so physically and mentally drained and you miss out on an opportunity for victory. I made a mistake. It is truly heartbreaking."
At a circuit where overtaking is almost impossible, Mercedes rolled the strategy dice by putting both Russell and Hamilton on fresh tyres on lap 45 of 62.
Russell left the pits 17.5 seconds behind Sainz. On lap 53, he swatted Ferrari's Charles Leclerc aside and victory – which would have been only the second of his career – looked possible.
Sainz, on old tyres, was eight seconds up the road. Norris was nibbling at the Ferrari gearbox, as Russell and Hamilton, in the other black-liveried Mercedes in tow, set about hunting them down.
Russell was soon on the back of Norris' papaya McLaren. With Norris out of the way, Sainz would surely be easy prey.
With three laps to run, Russell was handed his golden opportunity. The Mercedes man got better traction out of Turn 14 and nearly drew alongside Norris before slipping back into his tow and attempting to plant his machine around the outside of his countryman under braking for Turn 16.
But amid of a flurry of orange sparks, Norris could not be dislodged. And Russell's chance was gone.
Then, on the last lap of a race which ran for one hour and 46 minutes in the intense heat and humidity and is regarded to be the most challenging of the year, Russell was out. He brushed the barrier on the entry to Turn 10 and his evening was spectacularly over.
"No, no, f***, f***," the breathless Briton yelled over the radio. "What the f***."
"I had half-a-chance with Lando," said Russell. "Half-a-car's length difference and I think we would have won the race.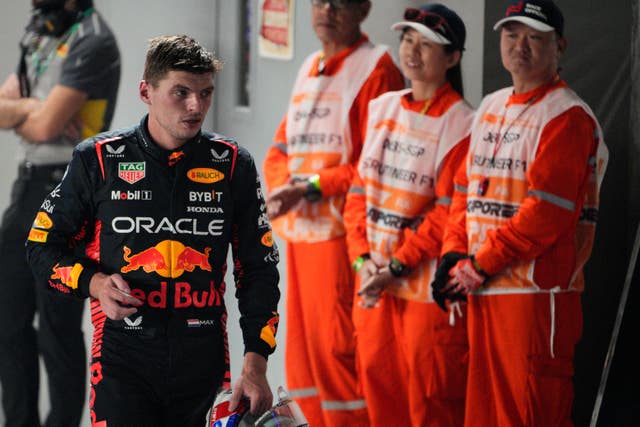 "I would have got ahead of Lando and Carlos would have been stuck without DRS and I would have flown by him. Instead, I ended the race in the wall.
"I don't know how it happened, maybe a lack of concentration, frustration knowing that was the last lap and the opportunity had gone and a one centimetre mistake has clouded the whole weekend.
"It was such a nothing of a mistake. If I span off, or locked up and ended up in the wall I would be feeling very different. But to clip the wall on the last lap is such a pathetic mistake which is why it feels so strange right now. I put everything on the line, I was knackered at the end.
"I will have a tough night and a tough morning, but I will put it behind me and go again. I can only apologise to the team because they deserved more, but s*** happens."
Hamilton tapped Russell on the midriff to offer his sympathy as the seven-time world champion conducted his interviews.
Russell wore dark sunglasses as he walked off into the glaring light of the paddock – perhaps to hide the pain.
Hamilton, who claimed his 196th podium, said: "For George, it was really unfortunate to finish that way, but he continues to grow and improve.
"I know he will get stronger and faster, and if can help him, I will naturally be part of that over the next couple of years. It can happen to any of us and it it just one of those things."