Erling Haaland has not ruled out breaking Alan Shearer's all-time Premier League goalscoring record.
Shearer scored 260 Premier League goals in 441 appearances during 14 seasons as a player with Blackburn and Newcastle before retiring in 2006.
Norway and Manchester City striker Haaland has scored 44 Premier League goals in 42 appearances since arriving in England from Borussia Dortmund in time for the start of the 2022-23 season.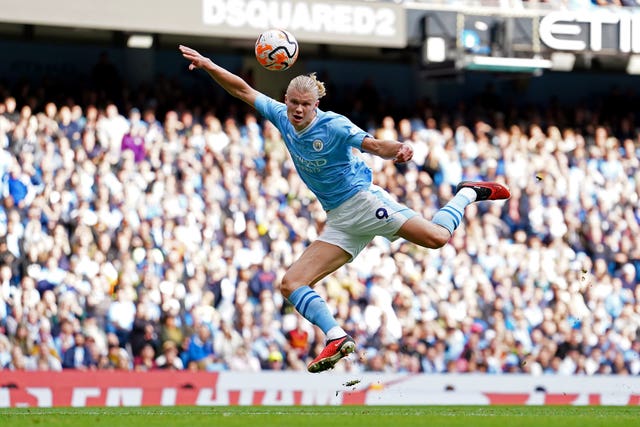 The 23-year-old, who has notched eight goals in seven top-flight games this season, jokingly told the Telegraph: "How long is my contract? Three years and 10 months (left)? So, there is still time to do it, no?"
When asked if he was serious about breaking the record during that time, Haaland added: "I didn't say that!
"That's something you can't think of. You have to think of the next game, the season and then these things come after a while. But if I will still be 15 years longer in England then why not? We will see."
Haaland, who has scored a total of 199 goals in 203 career appearances for Salzburg, Dortmund, City and Norway, said it was now a bigger story whenever he does not hit the target.
He said: "Norwegian media when I don't score: Goalless! That's the headline. That's how it is. It's a good thing. I am not complaining at all but, also, I signed for City to score goals.
"So, it was also a bit expected – maybe not so many – but I am still the one who is going to get the ball in the back of the net."
Haaland can often appear to drift out of games without touching the ball for long periods and explained how he slips into a 'zombie' state as he waits for his chance.
"I go out of my body and become a zombie," he added. "It's kind of a bit of a 'zone out'. Like looking around. Waiting for the chance. And when the chance comes I know I have to be ready, you know?"