Sheffield United captain Sophie Barker vowed to keep Maddy Cusack at the forefront of her mind after the Blades resumed their season following the death of their team-mate last month.
Cusack was the Blades' longest-serving player, and the first to make 100 appearances for the club, when she died on September 20 and last weekend's game against Crystal Palace was postponed as they came to terms with her death.
But they returned to action in the Women's Championship at Bramall Lane on Saturday and got a result for Cusask as they came from behind to beat London City Lionesses 3-1.
They fell behind to Chantelle Boye-Hlorkah's first-half opener but a second-half rally from the hosts saw Isobel Goodwin grab two and Ash Hodson also score to earn a fitting three points.
Several players, including Barker, were in tears after the game, having got the job done for Cusack.
There were pre-match tributes to the former midfielder, who also worked in the club's marketing department, with her team-mates warming up in t-shirts adorned with her picture and number eight.
An emotional video was also played on the big screen while both sets of players and the 1,146 fans in attendance held a minute's applause before kick-off.
Barker, who lived with Cusack, wrote a heartfelt tribute in the matchday programme, saying she would never forget her close friend.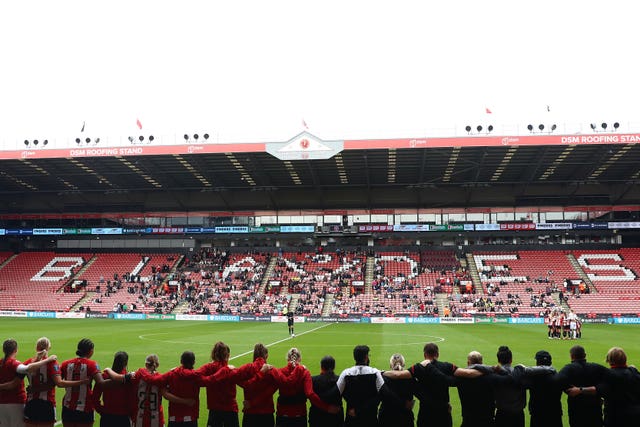 "What can I say, having to write this has been one of the hardest things I've ever had to do," she wrote. "What you meant to me, the girls and the club I would find hard to summarise into any words.
"The laughs, the terrible nicknames (for every single one of the girls), the passion, the energy, and most of all pure love you had for us all (in your own little way) will never be replaced.
"Within football we will continue to carry your legacy through every day. We will work tirelessly as a team to make you proud. You have been one of the best Sheffield United Women players to have graced the pitch and we will not allow that to be ever forgotten.
"We know the fans won't either, as we all know you were the favourite (Mrs Sheffield United). Everything from now on is with you at the forefront of our minds, especially when we enter every tackle.
"On a personal note, the precious memories we have I will constantly look back on and smile. I have spent some of the best years of my life with you by my side.
"The endless laughs, our trips away, holidays, nights out, training sessions, matches and our many long walks will stay with me forever. My roommate, my housemate, my best mate. I love you and miss you more than anything Mads."