Max Verstappen hailed his third Formula One world title as the finest of his career – and vowed to celebrate by downing a few sparkling waters.
The 26-year-old Dutchman has emulated Sir Jackie Stewart and Ayrton Senna after being crowned a triple world champion with six grands prix still remaining – equalling Michael Schumacher's 21-year-old record.
Red Bull's Verstappen has dominated Formula One since he beat Lewis Hamilton to clinch his maiden championship at the deeply controversial season-ending Abu Dhabi Grand Prix in 2021.
And his coronation of this most one-sided of campaigns was confirmed on lap 11 of 19 of a frantic sprint race when Sergio Perez in the other Red Bull crashed out under the floodlights of the Lusail International Circuit.
Verstappen has failed to win just three of the 16 rounds so far this season, and he became the first driver in history to win 10 consecutive races following a remarkable unbeaten streak from the opening weekend of May in Miami to the Italian Grand Prix on September 3.
Verstappen's title parade will start here at 8pm local time (6pm BST) when the lights go out on Sunday's 57-lap Grand Prix.
"This championship is the best one," said Verstappen. "The first one was the most emotional because that is when my dreams were fulfilled. But this has been my best year in terms of performance.
"I am the most proud of this one because of how consistent I have been. I will have quite a few sparkling waters tonight, but I will be here tomorrow."
Verstappen's championship-winning campaign has been one largely led from the front but the Dutchman dropped from third to fifth at the end of the opening lap of Saturday's sprint race.
After being usurped by Mercedes' George Russell and Ferrari's Carlos Sainz and Charles Leclerc off the line, Verstappen momentarily got out of shape at the opening right-hander, with Fernando Alonso nibbling at the back of his machine.
Verstappen survived, and then slung his Red Bull underneath Lando Norris for fifth. Two safety cars followed as Liam Lawson and Logan Sargeant beached their respective cars and Verstappen – on the slower, but more durable, medium rubber – set about his comeback.
First to be swatted aside was Leclerc on the main straight on lap nine, with Sainz the Dutchman's next victim on the following lap.
On lap 11, the championship was officially over. Esteban Ocon attempted to overtake Nico Hulkenberg on the inside of the second corner, and with Perez to the right of the Haas driver, Ocon lost control of his Alpine and took the Red Bull with him. It summed up the Mexican's woefully disappointing campaign.
Perez shared two wins apiece with Verstappen from the opening four fixtures but his demise has been dramatic. He is 177 points – the equivalent of more than seven victories – behind the man driving identical machinery.
On lap 16, Verstappen eased past Russell with Oscar Piastri 2.6 seconds up the road. However, the impressive McLaren rookie could not be caught as he claimed his first win in F1. It did not matter for Verstappen who could celebrate becoming just the 11th driver to win the title on more than two occasions.
"Max, you are a three-time world champion," roared Red Bull's jubilant team principal Christian Horner over the radio. "That is unbelievable. It has been an incredible year for you."
Verstappen, who starts on pole on Sunday, could claim the 49th win of his career with only Hamilton (103 victories), Schumacher (91), Sebastian Vettel (53) and Alain Prost (51) ahead of him.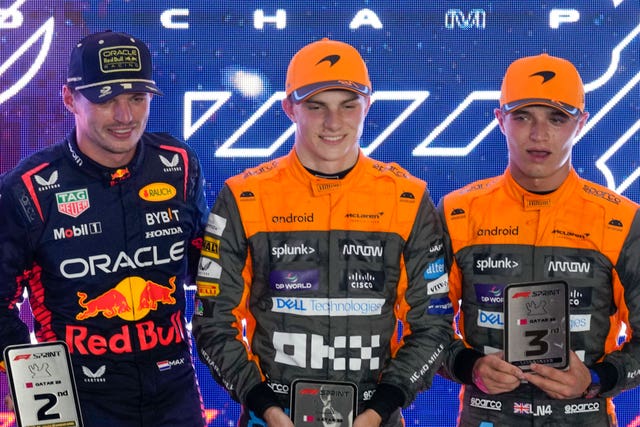 Verstappen turned 26 only last week, and the prospect of emulating the seven championships shared by Hamilton and Schumacher is surely possible.
"I am enjoying the moment and hopefully we will keep this momentum going for a while," said Verstappen, whose deal with Red Bull runs until 2028.
"It is different to other sports where you can set out targets and if I keep in good shape then these things are possible.
"But in F1 it doesn't always work like that. It depends on the package. I have quite a few more years in me to operate at my best but we will see how long that is. It is more about how long I want to be here.
"I live in the moment and I have achieved way more than I ever thought was possible."