Owen Farrell admitted his relief that his shot clock blunder did not cost England victory as they scraped past Samoa in their final World Cup group game.
England needed a late Danny Care try to defeat magnificent Islander opposition in an error-ridden 18-17 victory in Lille that will have sent the spirits of likely quarter-final opponents Fiji soaring.
A crucial moment came in the 64th minute when Farrell was lining up a routine penalty with the team 17-11 behind only for the time to run out on the shot clock – the first time it has happened in this tournament.
"I didn't see the clock. I wasn't aware. It was above where I was picking my target. I got lost a little bit in the kick," Farrell said.
"It wasn't good enough and I'm glad for the team's sake that it didn't cost us. Hopefully it doesn't happen again."
England had already qualified for the quarter-finals as Pool D winners but this night in Lille was a backwards step that evoked memories of August's dismal warm-up campaign.
Head coach Steve Borthwick accepted it was a poor performance but valued the hard-fought run out before the knockout phase begins.
"Immense credit to Samoa, I thought they played brilliantly," said Borthwick, who revealed that Manu Tuilagi suffered an injury that forced him off.
"Samoa spoke about it being their World Cup final and that's exactly how they played. They tested us and forced us into a lot of errors," Borthwick said.
"It was a scrappy performance for a long period by us in a real tough Test. As we look towards next week, I wanted a tough Test – and that's exactly what we got.
"There was a lot that was not at the required standard – lots of errors, mistakes, scrappiness and for a period there were too many penalties. And then the players got hold of it on the pitch and found a way to get the result.
"A lot has been said before about this England team when it is in tough circumstances.
"Now the team was in tough circumstances against Samoa. We didn't want to be there, we didn't want to play the way that got us in those tough circumstances but this team found a way out of it."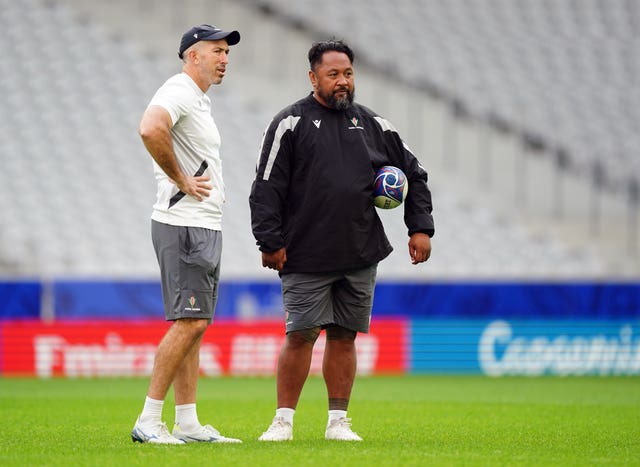 Samoa head coach Seilala Mapusua feels less-established teams such as his Islanders are battling against "unconscious bias" from officials when they face the heavyweights.
"I asked the question if the referees have an unconscious bias when a tier-one team plays a tier-two team. I believe there is and I believe there has been in the past," Mapusua said.
"I don't think it's anyone's fault, it's what I've seen in our game for the last however many years, since I was playing.
"My heart breaks for these boys. I thought they deserved a lot more than they got from that game.
"I felt we did enough to earn a victory. Such is the cruel nature of sport, it wasn't to be. In terms of the effort it's a pretty tough one to take."