Former Manchester United star David Beckham believes he knows the right people to take over and restore the club's fortunes.
Speaking to Sky Sports at the Qatar Grand Prix as the ongoing takeover saga at Old Trafford approaches its first anniversary, the 48-year-old Inter Miami president admitted he was hoping for a conclusion to the Glazer family's strategic review sooner rather than later.
Asked if Saturday's last-gasp Premier League victory over Brentford could be a turning point for manager Erik ten Hag, Beckham told Sky Sports: "Let's see.
"He's a good coach. It is a difficult time at the moment, but there's a lot of noise around the club at the moment, so it can't be easy for him.
"We all want that noise to go away and we all want a decision to be made for the club, for the fans, for the players and for the manager as well because we are one of the, if not the, biggest clubs in the world and we want stability, and I think that's the most important thing.
"We all have our favourites of who we feel need to run the club and look after the club and take the club back to where it belongs, but in our eyes, in the fans' eyes, we're number one and we want to be back at the top.
"I believe I know the right people to do that, so…"
Asked if "the right people" could be Sheikh Jassim, Beckham added with a smile: "We'll see."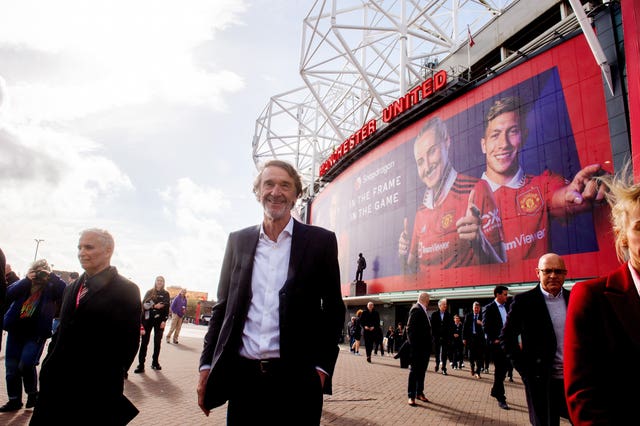 Qatari banker Sheikh Jassim and INEOS founder Sir Jim Ratcliffe both submitted offers to buy the club in February and have made further bids since, although little significant progress has been made.
The club's valuation on the New York Stock Exchange plummeted by more than £500million last month in the wake of reports the Glazers may not sell after all, and reports since have suggested Ratcliffe, the second-richest person in the UK according to the Sunday Times Rich List, could decide instead to buy a minority stake in the Premier League giants.
Meanwhile, Beckham sent his condolences to his former United boss Sir Alex Ferguson following the death of his wife Lady Cathy at the age of 84.
He said: "Obviously deepest sympathies go to the boss because to have Cathy by his side for a long, long time, got many, many years to be the strength that he needed through his career and through his life, it's a really sad time for him and his family and the grandkids, so we obviously send our love to him.
"She was an incredible person and someone… We looked up to the boss, we also looked up to Cathy, so it's a really sad time for him."