A racism case involving the Republic of Ireland has been closed by FIFA due to insufficient evidence.
A Republic of Ireland Under-21 substitute was allegedly racially abused as he warmed up during a friendly match against Kuwait Under-22s in Austria on June 19.
The Irish players walked off the field in response to the alleged incident and the match was abandoned.
The PA news agency reported in September that the Football Association of Ireland (FAI) had submitted a formal complaint concerning the matter to FIFA, but football's world governing body FIFA has now confirmed that the case has been closed.
The FAI said at the time of the alleged incident: "The comment was heard by a number of Ireland players, who reported this immediately to match officials as well as to members of the Ireland and Kuwait team staff.
"Due to the nature of the remark made and with no affirmative action in relation to it from our opponents, the game was abandoned. FAI staff and players were fully in support with this decision.
"The FAI has offered its full and unequivocal support to the player who was subjected to racism and to his team-mates. The FAI does not tolerate any racism towards any of our players or staff."
The FAI has been approached for comment regarding the closure of the case.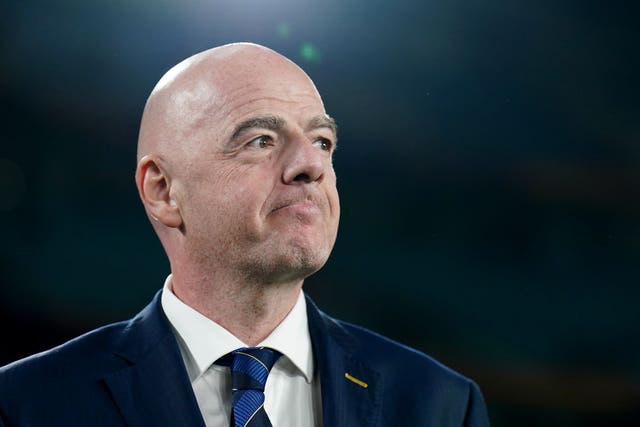 FIFA president Gianni Infantino has previously spoken about his organisation's determination to tackle racism.
Speaking in June, prior to the Republic of Ireland allegation, Infantino said: "(Racism) is a football-related problem and we mustn't look for excuses like, 'It's society's problem, therefore, it's fine in football'.
"In the world of football, we must act in a very forceful way."
He added: "There is no football if there is racism. So let's stop the games.
"The referees have this opportunity in FIFA competitions as we have this process for stopping the game, and actions have to be taken at every level, at national level as well. Everyone has to understand this and we will go, together, until the end."
FIFA has issued sanctions on discrimination cases in the past, with the football associations of Ecuador, Mexico and Serbia given partial or full stadium closure orders and hit with fines in relation to misconduct by their supporters at last year's World Cup in Qatar.
As part of the Social Media Protection Service, teams and players at that tournament were offered access to software that – with the account holder's permission – could automatically and instantly hide abusive and offensive comments on Facebook, Instagram and YouTube only.
Through the moderation element of the service, a total of 286,895 comments were hidden from public view before the targeted recipient or their followers had to see their contents.