Trent Alexander-Arnold believes he seized on an opportunity to impress England manager Gareth Southgate when he starred in a midfield role against Malta last season and his "newfound excitement" about the position has left him targeting a starting berth at Euro 2024.
Despite a host of eye-catching appearances at right-back for Liverpool as they won the Premier League and Champions League, Alexander-Arnold found his pathway to the England side blocked by strong competition from the likes of Kyle Walker, Kieran Trippier and Reece James.
Southgate, though, wanted to give the marauding full-back a chance in midfield and, despite initially being criticised for doing so by club manager Jurgen Klopp, Alexander-Arnold has now started to operate in that role for Liverpool.
He could come into the England side that hosts Malta at Wembley on Friday night, with a number of other options missing through injury, and he is now listed as a midfielder when Southgate names his squad.
But it was the reverse fixture against Malta in June when Alexander-Arnold felt he had a chance to show what he could do in the middle of the park and he put on a fine show against the Group C minnows, scoring his second England goal in the process.
"I would say the Malta game was my best performance in an England shirt," the 25-year-old said.
"It was one that I felt going into it that I had confidence. It was a big opportunity for me. I knew I needed to perform and I wanted to perform.
"I had spoken to the manager prior to the game, leading up to that camp specifically, about an opportunity and he explained to me there could be a potential opportunity in midfield going forward for me.
"When I heard those words, it ignited something within me. There was a chance for me to go out there and take it and I think that's what I did. Hopefully I'll be able to build on that."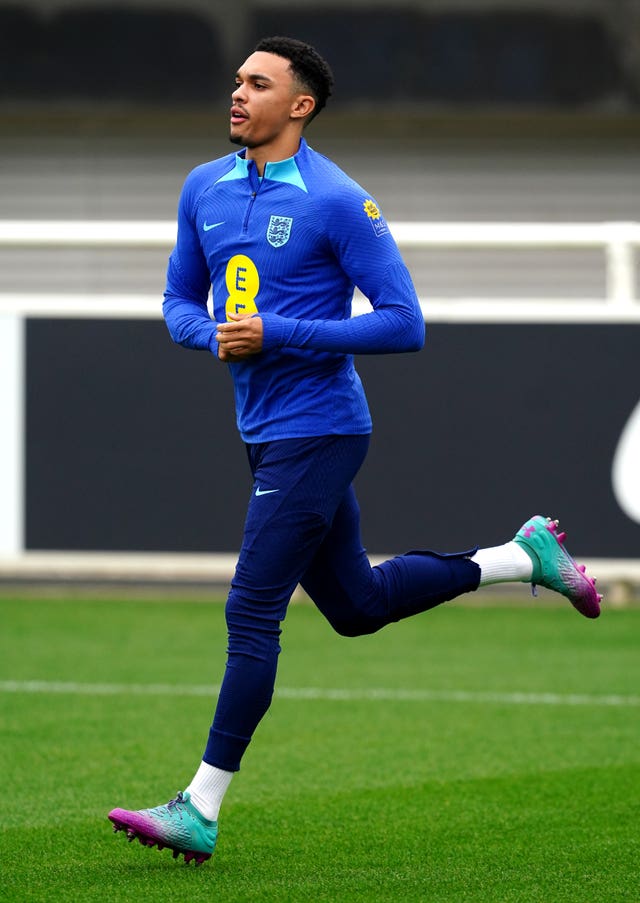 While he has made 287 appearances for Liverpool, Alexander-Arnold has just 21 senior England caps to date.
Now though, with Euro 2024 on the horizon, he wants to nail down a place in Southgate's side and feels his new-look role gives him the best chance of doing so.
"Since we spoke in the summer, me and the manager, about a midfield opportunity and to see if we could make it work, there has been a newfound excitement for me," he said.
"It is a huge opportunity and it is one I am grateful to have, but also making sure I take it. It still early days, I haven't had much experience in there so I'm still learning on the job and it's about picking it up as much as I can when I am in there.
"I've had some opportunities, I've had games, I've had minutes. But now I feel like there's a real opportunity for me, especially in a role that I think will get the best out of me.
"Every game for me between now and the end of the season and any time I'm performing, it's to earn a place to start in the Euros."
Asked if going to the Euros as a midfielder was now a target, Alexander-Arnold added: "Massively so, it is something I think about often, it is something that motivates me.
"When I'm here, when I'm not here, I'm constantly thinking about trying to get into the team for the summer, how I can do that and how I can take the opportunities I'm given to make sure I'm part of the plans for the summer.
"It is a target I have set for myself and I think, with the help of the manager and the staff and analysts, it is something I can do."