Exeter Chiefs captain Poppy Leitch wants her side to continue "moving in the right direction" as they prepare to compete in the inaugural Allianz Premiership Women's Rugby season.
PWR replaces the Premier 15s competition and starts on Saturday when Bristol Bears host Sale Sharks, while the Chiefs are in action against newcomers Leicester Tigers on Sunday.
The Chiefs will be aiming to bounce back from their Premiership final disappointment last season, where they lost 34-19 to Gloucester-Hartpury in June.
However, there is plenty still to cheer about for Exeter who have won two Allianz Cups and reached two consecutive league finals since their inception into the Premiership in 2020 – something Leitch admits is a "pinch yourself moment".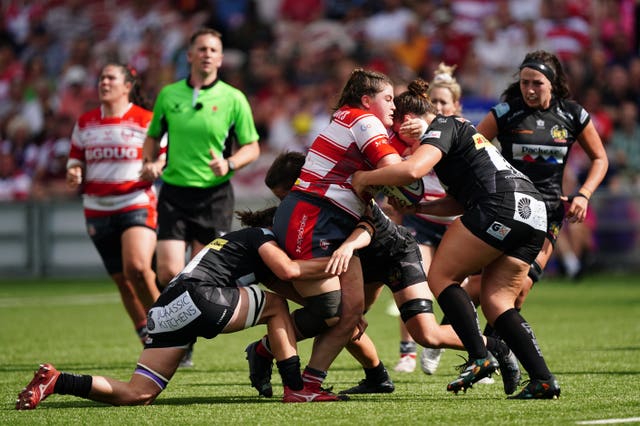 "There are moments you have to pinch yourself to remind yourself about how far we've come in such a short period of time," she told the PA news agency.
"But the exciting thing is, although we've had an exciting last three years, hopefully the next three years we have great player retention, people will still be playing at Sandy Park and these young faces playing in the cup and getting their Premiership debuts over the last couple of weeks are still very much part of Chiefs and we get that longevity of people's careers while they represent what is such an amazing club.
"It's a pinch yourself moment about how far we've come in a short period of time, but hopefully we continue to move in the right direction."
Alongside playing for Chiefs, Leitch works as head coach of Exeter University Women's Rugby Club and hopes that as the standard of Premiership rugby continues to improve players can eventually experience careers as professional athletes.
She said: "I think the next big thing is trying to get a large majority of players that are at Premiership clubs not on dual careers and being able to actually experience life as a proper female rugby professional athlete, which at the moment isn't really the case across many of the squads.
"I suppose what drives me is probably how could you not try and get yourself into a Premiership environment that is the most up and coming, exciting women's sport on the planet at the moment.
"I feel very fortunate to play in my hometown, I feel very fortunate to run out at Sandy Park, but I think the thing that kind of keeps you going when you work long hours then go to training and play high quality games at the weekend, is that everybody around you is challenging you to do better.
"I think that's a really enticing part of the Premiership is each year the level of play increases massively, the standard increases massively and that in itself is usually motivating and engaging."
Following their successful application to join PWR, Ealing Trailfinders are newcomers for this season and have made a number of top signings including England winger Abby Dow.
Canada's Tyson Beukeboom is another of the new arrivals in west London and says the team are aiming to make their "own name", kicking off with a home tie against Harlequins on Saturday.
"Being the underdog, which as a new team we're going to be, kind of takes the pressure off," Beukeboom told PA.
View this post on Instagram
"There isn't a ton of expectation for us so we're out to make our own name and see what we can do, which I think maybe can create some pressure within ourselves but from the outside there isn't a ton of that expectation. We're just excited to see what we can do.
"(Joining Ealing has) been amazing so far, it's really fun coming into a new team and seeing what our team culture turns out to be. Meeting a whole bunch of new players and creating that family environment within a team.
"I think everyone's really bought in and (Director of Women's Rugby) Giselle (Mather) has done a really good job of creating that environment to have a successful team culture."