The Premier League will return to action this weekend following 2023's final international break.
Here, the PA news agency takes a statistical look at how things stand through the first 12 games of the season.
Goals galore
With 370 goals in 120 games, this season is averaging more than three goals per game – a rate which, if sustained for the full campaign, would be unprecedented in the Premier League era.
Last season's 1,084 goals in 380 games meant an average of 2.85 per game, the highest since rebranding. This season's average of 3.08 would lead to a total of 1,171, surpassed only by the early seasons of the Premier League featuring 22 teams each playing 42 games.
There have been only three goalless draws along the way – two of them in consecutive Crystal Palace home fixtures, against Fulham on September 23 and Nottingham Forest two weeks later. Bournemouth held Chelsea in the other.
Erling Haaland has picked up where he left off, the Manchester City striker again leading the scoring charts with 13. Liverpool's Mohamed Salah is also in double figures already, with 10 in 12 appearances, while Jarrod Bowen and Son Heung-min, on eight apiece, and Callum Wilson with seven, complete the top five.
An increase in stoppage time under stricter enforcement rules has played a part, with 50 of the 370 goals coming in the added minutes – 13.5 per cent of the total, up from 7.7 per cent last term when there were only 84 stoppage-time goals all season.
Competitive campaign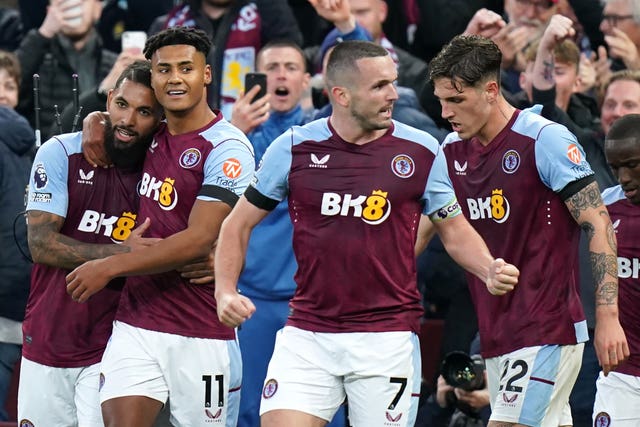 The current table sees five teams on at least 25 points, the most ever through 12 games of a Premier League season.
There were four such teams in each of the 2011-12, 2016-17, 2018-19 and 2019-20 seasons but Manchester City, Liverpool, Arsenal, Tottenham and Aston Villa have made it a Premier League-era high.
Just three points separate those five teams while the league has already completed a 'victory loop' – made by arranging results so that team one beats team two, team two defeats team three and so on until team 20 beats team one.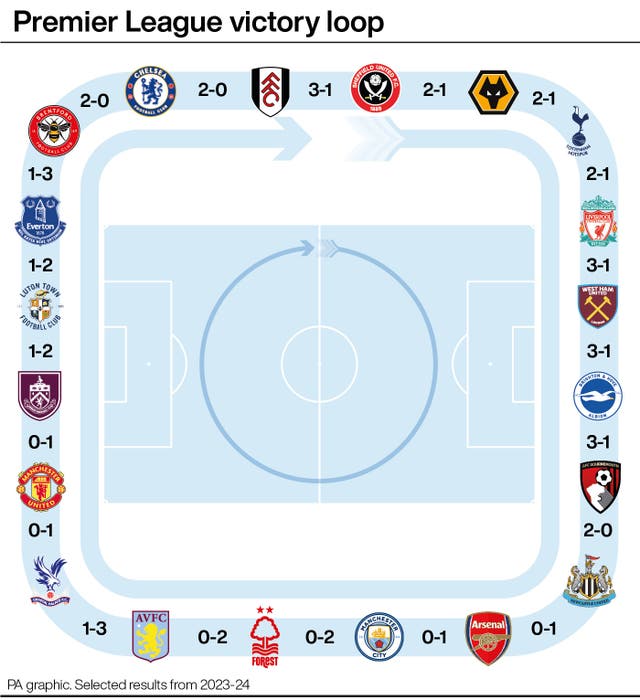 The 73 previous teams with at least 25 points at this stage include 20 league champions, a further 42 top-four finishers and only 11 who finished outside that bracket.
At the other end of the table, Burnley have only four points and have been joined on that total by Everton following the latter's unprecedented 10-point deduction for financial breaches. Sheffield United, just a point better off, complete the relegation zone.
Only three teams have previously had as few as four points after 12 games – Everton themselves in 1994-95, QPR in 2012-13 and the Blades in 2020-21, who had only one point.
A further seven have been on five points at this stage and eight of the 10 teams overall were relegated. The only survivors were the aforementioned Everton team, in a 42-game season, and Crystal Palace in 2017-18 when Roy Hodgson rescued a dismal start that saw Frank de Boer sacked just four games into his reign.
Tough start for promoted teams
With Luton also on only six points, the combined record of the three promoted clubs is comfortably the lowest in the Premier League era.
The trio occupied the three relegation places until Everton's points deduction and their combined 15 points smashes the previous record worst of 26 at this stage.
That was in 2007-08 and saw Derby on six points on their way to a record low of 11 for a Premier League season. Sunderland had nine and Birmingham, who were eventually relegated alongside the Rams, 11.