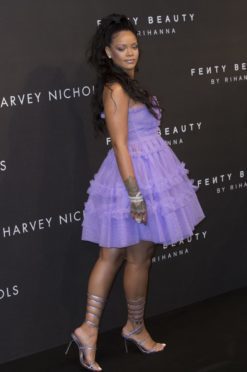 Rihanna showed her support for Arsenal as she went along to watch the Gunners defeat Everton in a 5-1 thrashing.
The R&B star, 29, was thanked by the team's Shkodran Mustafi for "crossing her fingers", while Mesut Ozil called her a "lucky charm".
Her appearance came less than four years after she supported the German national team – which included Mustafi and Ozil – in the 2014 World Cup Final against Argentina, which they went on to win.
Mustafi shared a picture of Rihanna posing in a line-up including himself and Arsenal's Bosnian full-back Sead Kolasinac on the field after the match.
He tweeted: "The result we needed today! Thanks for crossing your fingers @rihanna that has always turned out really well… #Brazil2014 #workworkwork #sm20 @arsenal."
Kolasinac shared a picture of himself and the Barbadian singer and actress.
He said: "Great team effort and important win.
"Thanks for your support @rihanna! #AFCvEFC @Arsenal #Rihanna #SeoKol."
Rihanna was also happy to pose for a selfie with Ozil, who wrote on Twitter: "Still unbeaten with Riri @rihanna #WorldCupFinal2014 #AFC #Emirates #luckycharm @Arsenal @DFB_Team."
Sharing the same photo on Instagram, the footballer added: "She knows which football teams to support."
According to reports, Rihanna's appearance at London's Emirates Stadium caused "a bit of a stir".
Arsenal won the match against Everton 5-1, with Aaron Ramsey scoring a hat-trick and club-record signing Pierre-Emerick Aubameyang also on target on his Gunners debut.