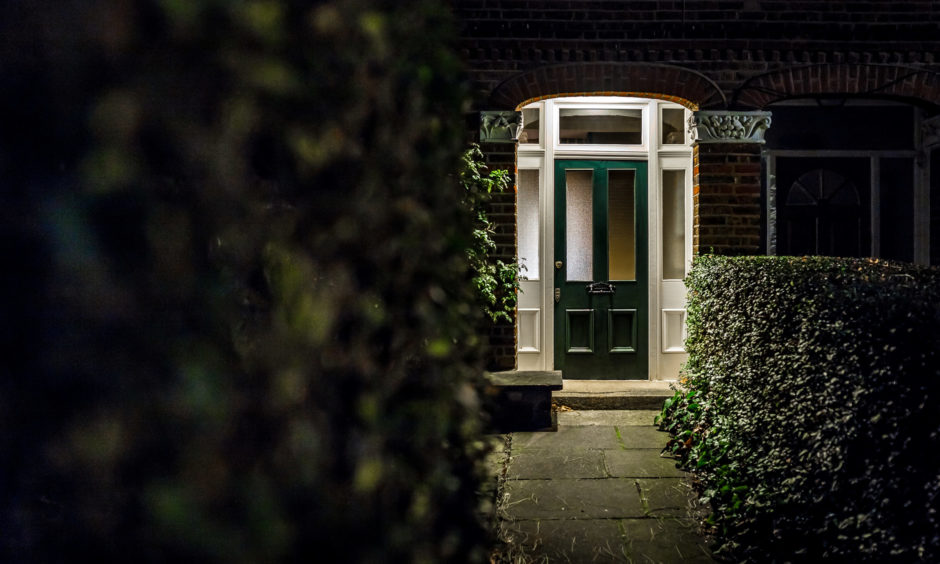 It is for many domestic abuse victims the biggest decision of their life. The front door of their family home closes behind them – and they will never go back.
That moment the victim bravely takes their footsteps out of strife triggers what can seem like an overwhelming series of challenges: Where will they sleep? How will they eat?
But an Aberdeen charity is at the forefront of ensuring all those needs are met, from providing immediate crisis support to helping transform the lives of north-east victims for the better.
Aberdeen Cyrenians has been running a support service for domestic abuse and domestic violence from its centre on Summer Street since 2006, helping people aged over 16 – mainly women – confront abuse head-on.
It is currently helping around 50 people.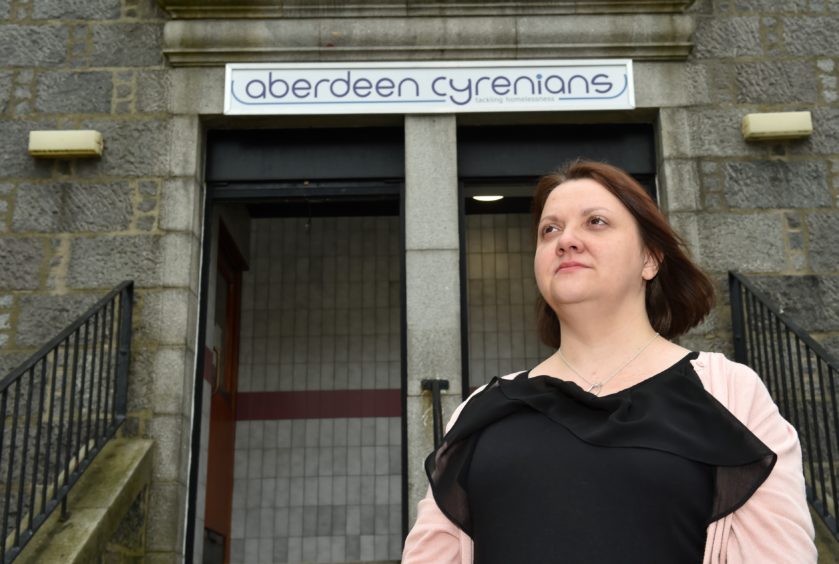 Fiona Whitehouse has been spearheading the service for 14 years and said that, while there are success stories, many victims are simply not coming forward.
She said: "We are probably not quite at the tip of the iceberg but we know there will be so many people who are not accessing the support."
So why don't sufferers seek help?
Aside from the immense psychological strength needed to make a monumental personal change, perhaps the answer lies in the significant number of practical obstacles that victim must tackle.
Ms Whitehouse said: "It is exhausting (for victims). It affects mental health. It causes anxiety and depression. Some have fled with nothing. That poses many immediate and longer-term issues.
"It's letting folk know – we're right here. You can trust us, and support is here."
Victims are sometimes referred to Aberdeen Cyrenians or Grampian Women's Aid by Aberdeen City Council, NHS Grampian or community group such as HomeStart.
Often, the victim has Googled support services and picked up the phone themselves, or the referral has come after police have attended their address.
­
Ms Whitehouse said: "Often when people come to us for help, the perpetrator will know where they are.
"We've had folk where the only place they have been allowed to go (by their abuser) to is the doctor or the health visitor so maybe that's where we would see them because it's the only place they can speak openly.
"Some may choose to stay with friends and family, others might need temporary accommodation.
"We work in partnership with Aberdeen City Council – the housing access service – to be able to access that safe accommodation for folk.
"For temporary housing there is an assessment where they speak through the questions and it is usually police who do that, or we do that – it depends how the person feels.
"The whole purpose of the partnership is so folk don't feel as though they have to be retelling their story multiple times."
'Support from day one'
Having Cyrenians involved from the get-go means staff can learn what the person needs.
Ms Whitehouse said: "It means we can offer the domestic abuse support from day one. While we're getting the information and the background and putting the case forward to the council (for a housing assessment), we're offering that emotional support."
Abusers are often hell-bent on tracking down their victims so a major for the charity is keeping them at bay.
Ms Whitehouse said: "When people leave, that's when risks are heightened because they have moved away from that control and the perpetrator wants that control.
"They might not have a phone, or their partner is monitoring it or they've broken it so we give them a phone so they can phone emergency services and be contacted by ourselves and other support services.
"It also reduces isolation for folk that would benefit from having contact with family and friends.
"We can do safety planning and get grade-one markers in place on phones and address.
"If somebody was to phone 999 either from that phone or from the address or about that address it would flag up on the police system that an immediate response is necessary.
"We can look at personal alarms, window security and other devices the police have for security measures, such as door braces."
It's letting folk know – we're right here. You can trust us, and support is here."
Securing temporary accommodation can feel like an important first step, but the process only starts there and Cyrenians navigate the victim through what comes next.
Ms Whitehouse said: "Once they obtain accommodation, we help with what they need for that property.
"Some might be able to go and take furniture with them and that can be put in storage through the council. Others literally have fled with nothing so it is a case of accessing the welfare fund to get furniture and white goods for their new property.
"We look at the financial situation – if there has been financial abuse. Do they have access to their own money? Is it in a joint account? If child benefit is a factor, is it being paid to them?
"It's a case of making sure they get what they are entitled to and getting that in their own name. Sometimes there will be a need to set up their own bank account and we help them with that.
"We work with children's services to ensure the right support is there for any children involved."
Help through the maze
Cyrenians staff also guide abuse victims through a maze of bureaucracy and red tape, helping them get a solicitor and give witness statements. They are a second pair of ears and a guide to an otherwise intimidating process.
Ms Whitehouse emphasised the service is far from one size fits all.
She said: "For some people it might quite light-touch support they need.
"It may be they are very capable of doing these things themselves, that they don't need that financial assistance and have good support from friends and family, but they have not been in this situation before so it's helping them navigate that and be able to access services they do need."
Feedback is overwhelmingly positive. Service users surveyed by Care Inspectorate monitors during a routine visit in January 2020 heaped praise on staff.
'Like family'
One said: "I can't speak highly enough of them," while another added: "I wouldn't be in this position now if it hadn't been for them. They have been so good and given me strength."
Another said the service had "become like my family."
Cyrenians help people for an initial three months, after which some can tread their own path.
Others, however, require long-term assistance. Some have been ordered to hand over every penny they earn to their abuser and don't know how to pay a gas bill – and those victims are given extra support.
Ms Whitehouse said: "It might be that, because of the abuse, and being so controlled they have not been able to manage their finances or deal with utilities or any of these things, so they may need some kind of housing support, so we will refer them (to the right service for that)."
"The majority of folk will refer on to our domestic abuse support group for women.
"The majority of support (in the group) is on a one-to-one basis, so everybody has their allocated worker.
"Some issues can be dragging on, things like court dates.
"We're supporting people through giving statements. We can advocate for people to (give evidence in court cases) remotely or with screens. That's a lengthy process hanging over people and re-traumatising them when they are going through that.
"We go through the legal process related to child contact and accessing solicitors.
"We have some people coming to the service where immigration is an issue, needing to apply to visas if they are here on a spousal visa. That can be a long process."
One service user told the Care Inspectorate in January 2020: "The service has been invaluable, helping me with my visa, with housing and benefits and just being there for me."
Another factor is ensuring victims can learn about healthy relationships.
Ms Whitehouse said: "A lot of it is emotional support helping people address and work through the abuse they have experienced.
"We hope we can help them move on and not get back into that cycle of abuse – if they are moving on to relationships beyond that, maybe being able to recognise what is safe and healthy."
Cyrenians also runs a women's group, where victims can meet people who have experienced the same ordeal they have.
Ms Whitehouse said: "It's not for everybody. But for a lot of folk they have become really isolated through the abuse or they have maybe had to flee from other areas of the country or UK wide.
"The women's group is about helping them build up that social capacity again and the confidence of being around other folk, having some time for themselves, develop new skills, rekindle interests that they have had before.
"It's a three-month group but it's amazing the differences you see in people and how they are really thriving from that. We try to limit the numbers in the groups to eight, and the group runs twice a year.
'See the change'
"You can really see the change in people and seeing them come together as a group is great.
"They have established friendship and keep in contact beyond the group. We've had a few folk over the years become friends and look after each other's kids."
Towards the end of that 12-week programme, the charity offers people help in taking their next step.
Ms Whitehouse: "It's planning for what folk what want to do. We've got folk who have maybe gone into employment or further education. We had one lassie who had had to stop her studies and so she went back and is finishing off her degree.
"We help people volunteer within the organisation or with other organisations."
While the majority of people the service helps have escaped their abusers, some people stay in the abusive relationship, posing an altogether different challenge for Aberdeen Cyrenians.
Ms Whitehouse said: "They have obviously recognised 'this is not feeling right and I need some support with this' but (are) not ready to move. We'll support them as well.
"For some people, they may not leave or others it will be that they need a bit of time to think about all the options before deciding if they leave.
"They are living in fear. Our help enables them to cope with (staying) and to reduce the risks and the impact of what they are living in.
"We can put safety measures in place such as the grade-one markers (with police). It takes such strength to keep living through that. It takes such strength to make that move and to leave.
"We need to recognise the strength people have while they are in that situation to keep living in that and keep their children as safe as they can."
For those that do manage to escape their torment, the prospect of hearing or seeing their abuser again is a horror Cyrenians are all too familiar with.
Ms Whitehouse said: "Some people will automatically come out of court and go right back there (to the victim's home). If there are bail conditions in place they won't adhere to that.
"Others will try to make contact in other ways – calls from unknown numbers or different numbers or setting up new Facebook pages: Part of our advice is about online safety – blocking pages, changing your own page, making sure your securities are there, making sure they can't see your location on your phone. Folk will just find ways around that.
"It's about that power and control to dip into someone's life, to be contacting them, or putting up messages or making false allegations.
"A lot of the time you see they will either try to contact people's work or friends and family and try to put that person in a bad light.
"You see as well some people will lay low for a long time. Sometimes it can be several months or a year in between things and then out of the blue they will do something.
"It's not out of the blue – they have planned it. It's them being able to decide and control when they get back into contact.
"Folk can't completely relax. They are trying to get on with their lives while (metaphorically) looking over their shoulder."
Recent legal changes have made coercive control and so-called 'revenge porn' specific offences, meaning court sheriffs who previously would have only been told about single incidents of physical assaults now get the bigger picture.
Ms Whitehouse said: "With the new legislation, it gives those grounds for these things to be taken into account and that whole pattern of abuse and coercive control where there wasn't a particular charge for that previously.
"Now it is possible to show a pattern of behaviour (in court narratives). Sometimes we still see unfortunately there isn't evidence to prove an individual did something, for example, posting a social-media message."
The Cyrenians programme, which also includes a stand-along group for women who have been victims of violence, has been going since 2006 and has evolved along the way.
Ms Whitehouse said: "For the 14 years I've been involved, it is learning, trial and error.
"We have a strong team and it is a case of us all being able to share the knowledge and experience we have developed over a period of time.
"It does take time to get it right. It is a case of recognising everyone's knowledge and strengths, then sharing it."
In January 2020, Care Inspectorate monitors rated the programme "very good" for supporting people's wellbeing and for leadership – the second-best rating on a six-point scale.
Inspectors praised staff for helping service users join the charity's singing group and for organising a joint outing to Aberdeen Christmas Market on Broad Street.
"This not only gave them support from the service, but helped them build up a social network with people who also used the service," said the report.
And there are success stories – tales of people who arrived at the service in crisis and have rebuilt their lives.
Ms Whitehouse said: "It's really hard to pick just one, because there have been many over the years.
"We had a young family who had been living in an abusive relationship for most of (the mother's) adult life – a woman who had children and wanted to get away but also had that bit about 'well, will it be worse for the children, taking them away from their home and their school?' All those kind of barriers.
"It did take her a wee while (for her) to come in and see us but then once she had – you could just see the relief that she was able to be heard and speak openly."
"She was able to know 'yes, accommodation is available for you and yes, you will still have contact with that person in some shape or form because you have children together, but we can help make sure that's in place for you and for your kids.'
"She messaged the other day and said 'thank you so much. I just never thought I would get out of that (abusive relationship). I wouldn't be where I am now without you guys'."
Ms Whitehouse described how the woman was recently confronted by someone who wanted her to do something she wasn't comfortable with – and she dealt with it assertively.
Ms Whitehouse said: "Pretty much after she had done this, she spoke to her support worker and said 'I've just done this!'
"Just having that sense of empowerment (is important). Having lived with years of abuse and being so isolated and having young children to look after and then for people to say 'no, I'm taking control back here and this is not happening again.'
"Hearing that, you know you have made a difference – not just in a practical sense, but in an emotional one.
"For folk to be able to turn things round and get to the point where they can recognise the positives in themselves after being told all that time how worthless they are. I think it's amazing."
Where you can find help
A range of support services is available for people seeking assistance in relation to domestic abuse or domestic violence:
Aberdeen Cyrenians Phone 0300 303 0903 option 4
Email: dasap@weareac.org
Details: www.aberdeen-cyrenians.org/get-support/dasap
Grampian Women's Aid Phone: 01224 593 381
Email: info@grampian-womens-aid.com
Details: https://www.grampian-womens-aid.com/
Rape Crisis Scotland
Phone: 08088 01 0302
Email: support@rapecrisisscotland.org.uk
Visit: www.rapecrisisscotland.org.uk/help-email-support/
24-hour national Domestic Abuse and Forced Marriage helpline
Phone: 0800 027 1234
Visit: www.nationaldahelpline.org.uk (the website features a live chat facility and a web contact form.)