The Press and Journal podcasts
Think we are just about words? The Press and Journal podcasts now offer readers the chance to hear from our journalists who bring you the best in local journalism each day. Listen to our reporters as they provide investigations, insight, analysis, and humour in our award-winning podcasts.
Vanished: The Arlene Fraser murder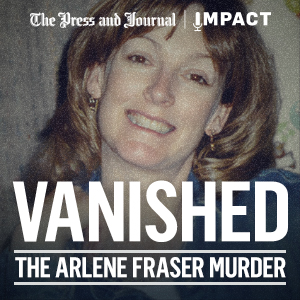 Join investigative reporter Dale Haslam as he travels to Elgin to explore a 25-year mystery.
In 1998, 33-year-old mum of two Arlene Fraser was at her home one minute – and gone the next. 
Vanished uncovers what really happened in Scotland's biggest ever missing persons case across six episodes. Dale speaks to Arlene's friends and family, and the people who eventually brought her killer to justice.
Listen to our new podcast on Spotify, Apple or Google, or wherever you get your podcasts.
Hunting Mr X: A True Crime Podcast
Hunting Mr X is a true crime podcast that reveals the unbelievable story behind the biggest drugs importation in Scottish history – and the man who masterminded it all, Julian Chisholm, aka Mr X.
In 1990, the former North Sea diver, along with a group of unlikely Scots, made a deal with the Cali Cartel to import £100 million of uncut cocaine into the north-west of Scotland.
In this new five-part series we take you inside Julian Chisholm's criminal enterprise that spanned the globe. The series also hears from those involved in the huge law enforcement operation to bring him to justice and reveals how Chisholm formed links with one of Europe's most feared gangsters while in jail before mounting a daring prison escape.
Listen to our new podcast on Spotify, Apple or Google, or wherever you get your podcasts by searching Hunting Mr X.
The Stooshie – The Press and Journal's political podcast
If you want to understand the ins and outs of Scottish politics a little better, listen to The Stooshie podcast every week, a Scottish political podcast providing insight, analysis, opinion, and updates on every decision made by the Scottish government and UK Parliament – from Holyrood to Westminster.
Our political journalists from across the DC Thomson Media folio of news brands get together to discuss what's been happening across Scottish politics over the last seven days and help you understand the implications of what's happening at the heart of the Scottish parliament in Holyrood, inside the halls of Westminster, and across the local communities we serve – all so that you can be better briefed.
Northern Goal – Scottish football podcast
The Northern Goal is a weekly podcast, bringing together journalists and football fans from across the Press & Journal and Evening Express.
We focus not just on the bigger teams in the north of Scotland such as Aberdeen FC and Inverness Caledonian Thistle, but also Ross County, Peterhead FC, Elgin City, Cove Rangers FC, and all the teams in the Highland League.