Over the last 18 months, the Press and Journal has been working with news publishers across the world to identify best practice in digital publishing.
Why? Our goal is to do journalism differently.
To understand our key audiences online and provide them with rich, compelling content that helps them live their lives.
Content and information that they can't find elsewhere.
Now we need talented digital journalists to be part of this newsroom revolution.
We need innovators, creatives, storytellers and planners. People that care and who are up for the fight.
If this is you, read on, and please get in touch.
Newsroom transformation
For more than 250 years, the story of the Press and Journal has been about serving the needs of our audiences with the content that is relevant to them.
We have done this in many ways. We have published multiple editions and had offices and journalists stationed in towns across the vast geographical area of the north and north-east of Scotland.
We have been with our audiences through wars, floods and famines; through boom and bust; through birth, marriage and death.
And we have been successful. The P&J remains the biggest selling regional newspaper in the UK and has some of the highest levels of trust seen anywhere.
We are proud of this.
But the world is changing. And what our readers seek from us is changing.
The truth is that we can do better. And must do better to serve our audience's needs in a digital world.
The goal of our newsroom transformation is to develop a deeper and longer-lasting relationship with readers – many of whom are not currently regular buyers of the P&J.
Our transformation will be top-to-bottom, encompassing newsroom structure, the content we produce, our mental models and processes, our daily goals and metrics and the way we interact with our audience.
We will break the stubborn rhythms of a print operation, allowing us to grow digital subscriptions while still honouring the many loyal readers who read the physical newspaper.
Internally we have called this journey Apollo.
The need for trusted and relevant journalism has never been greater.  The Covid-19 pandemic, Brexit, the debate over Scottish independence, economic recovery, schools, diversity, home working and personal health and wellbeing are all key topics for the coming years.
This change requires new perspectives, endless training and fresh story ideas. A world-class live news team who can deliver the latest information directly to mobile. Expertise in SEO and social media. Audio producers. Data journalists. Videographers.
Planners. Analysts and visual storytellers. An improved user experience. And journalists who can innovate and tell the stories that our readers demand.
Our internal hierarchy will be flatter. Our teams more diverse.  No more dancing to the tune of a single Editor. But a place where everyone's ideas are welcome and can be trialled and tested.
To be successful we need new skills in the organisation. Already we have hired key talent from within Scotland, from London and from Europe. But we need more journalists who want to do things differently. Who want to be out of their comfort zone and part of building a new sustainable future for news.
The pioneering spirit that launched the P&J, and made us what we are, will not change. Our undying will to innovate and reinvent modern news and uplift this industry will never change.
If you want to be part of Apollo, and if you have the passion and drive to make a difference, then we'd like to hear from you.
Never in my career have I been more excited about building something lasting and meaningful. Come join us.
Frank O'Donnell
Editor-in-Chief
Join us at DC Thomson Media
Our stories will be told through words and pictures, the teams will use video, live broadcasting, programme making, audio producing, animation, interactive graphics and a suite of live events to serve communities with a level and quality of content not seen before in the UK regional news market.
These vacancies offer candidates the opportunity to be part of a business that continues to invest; in journalism, its future and its teams.
Video: Learn more about Programme Apollo
The DC Thomson Media newsroom changes also encompass The Courier, Evening Telegraph and Evening Express and is known internally as Programme Apollo.
The transformation has been led by Head of Newsbrands, Richard Neville, and has already seen our teams upskilling, innovating and finding new ways of reaching audiences with relevant content.
At the heart of the project is a significant investment in people, technology and resources to deliver ground-breaking digital storytelling.
About DC Thomson Media
DC Thomson Media is one of the UK's leading media creators, whose brands have been at the heart of everyday life for generations.
We're passionate about delivering fulfilling, inspiring and relevant content that enhances the experiences of our consumers.
Our diverse brand campaigns stimulate the imagination, producing dynamic content, products and experiences that really deliver.
As well as the Press and Journal, it publishes the Evening Express, The Courier, Evening Telegraph and The Sunday Post. As well as DC Thomson Media, DC Thomson Group includes global genealogy company Findmypast, leading IT business services provider Brightsolid, multimedia studio Beano Studios and magazine publishers Puzzler Media and The Stylist Group.
DC Thomson is an established family enterprise that has origins in the entrepreneurship of William Thomson in the early 19th century when the firm's main business was in shipping.
During the mid-19th Century, the Thomson family invested in publishing, taking an interest in the Dundee Courier and buying it in 1866.
At that stage there were two major publishing houses in Dundee, the other was run by Sir John Leng.
In 1905, the Thomson and Leng firms merged under the leadership of William Thomson's son David Couper (D.C.) Thomson. DC Thomson bought Aberdeen Journals, the publishers of the Press and Journal and Evening Express, in 2006.
Our Area
The Press and Journal covers the north and north-east of Scotland, an area larger than Belgium, including Aberdeen, Aberdeenshire, Moray and the Highlands and Islands.
The newspaper's main office is in Aberdeen city centre with the Highlands and Islands team based in Inverness.
The north-east of Scotland offers the best of both worlds – busy city life and the peace and quiet of the countryside. Aberdeen is a city with rich culture and history and has been named one of the best Scottish cities in which to live and work in the Good Growth for Cities index.
The quality of life is built around good value homes and top schools, but also a love of the great outdoors, wide open spaces, a passion for culture and a true sense of community.
As part of the 25-year masterplan to create a more vibrant city centre, £37 million has been invested in Aberdeen Art Gallery and Music Hall, part of a distinctive cultural offer and amazing platforms for both global and local artists.
Within minutes of leaving Aberdeen you can be enjoying the Cairngorms National Park and a stunning coastline – part of which was voted one of the world's most iconic landscapes by National Geographic – and more castles per acre than anywhere else in the British Isles.
Aberdeen is known as Europe's oil and gas capital, but has now positioned itself at the forefront of a global energy transition to a lower carbon world. The area is recognised as an important centre for life sciences and is home to food and drink brands that are enjoyed right across the planet.
The Highlands and Islands is home to the vibrant city of Inverness with hundreds of towns and villages and around 100 islands. The area regularly earns top spot in quality of life surveys, has been named as the happiest place to live in Scotland and the second happiest in the UK. Combining city living with a more rural way of life.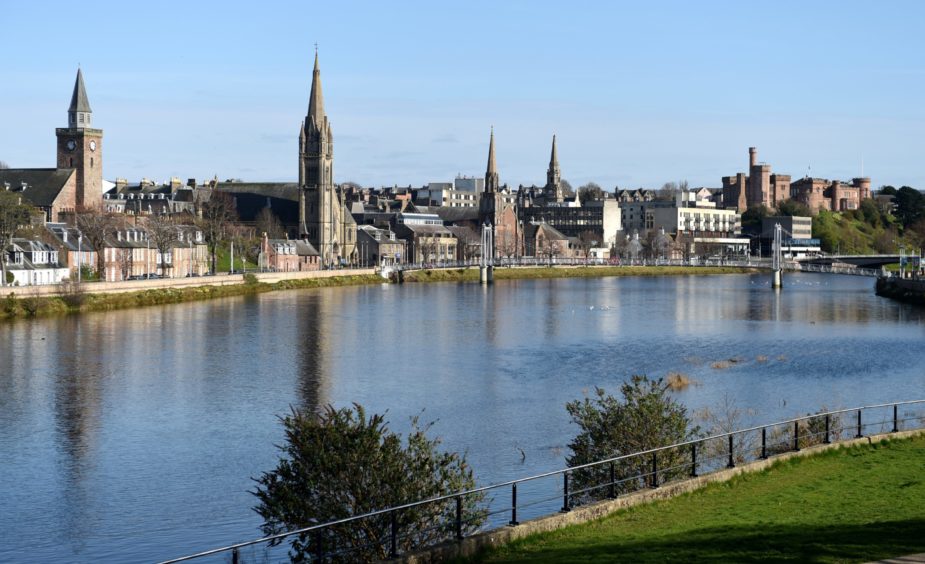 The Inverness Old High Church, the Inverness Free Church and  Inverness Castle on the banks of the River Ness.The great outdoors is everywhere you turn, whether it's the impressive mountains, world-famous coastlines or a national park, there's something for everyone. Popular tourist attractions include Loch Ness, the Cairngorms, North Coast 500, Ben Nevis and Eilean Donan Castle.
The area is also famous as a major producer of whisky and is also home to many popular food and drink brands. Inverness is regarded as one of the fastest-growing cities in Europe, with a mixture of high-tech industry, tourism and heritage driving the economy.