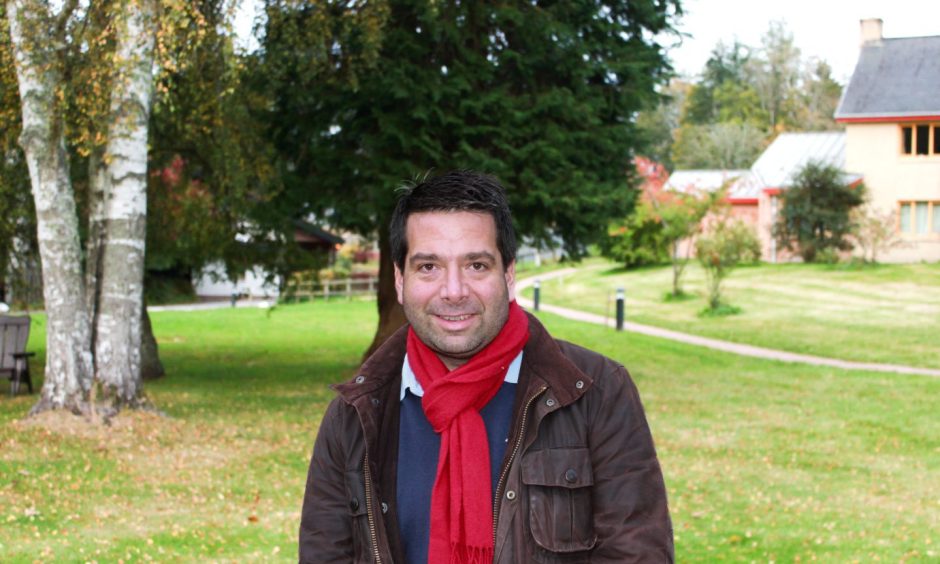 Camphill School Aberdeen is celebrating a glowing report after an unannounced visit by inspectors.
But what is the secret behind the school's success? What is it that they do differently, and why does it work?
The special school, based across three campuses in Bieldside west of Aberdeen, was graded 'Very Good' in all four areas by the Care Inspectorate, who visited in August.
These were:
People experience compassion, dignity and respect
People get the most out of life
People's health and wellbeing benefits from their care and support
Quality assurance and improvement is led well
Inspectors judged Camphill across three service areas – young adult day services, residential services, and children's services.
Alex Busch, executive director of Camphill School Aberdeen, said he was "thrilled" by the report.
"These results are a testament to our hard work, and we are delighted that the Care Inspectorate has recognised this."
He added: "It's important to us that we create a safe environment for our pupils where they are free to learn and develop through a variety of activities that they may not have had access to otherwise.
"Camphill School Aberdeen is a 'home away from home' for many and I am thrilled that this has been acknowledged."
Pioneering Camphill School Aberdeen founded by wartime refugees
Camphill School Aberdeen is a charity set up by Austrian refugees who fled to Aberdeen amid impending war in 1939.
The school opened its doors in 1940. At that time, children with additional support needs were excluded from society.
The founders of Camphill School Aberdeen were led by the principles of Rudolf Steiner (1861-1925), the Austrian philosopher and educationalist.
These principles are the cornerstones of the Waldorf and Camphill schools which are now thriving across the world. There are more than 1,200 Waldorf schools globally, and more than 100 Camphill communities.
Steiner said: "We should not learn to teach out of any book, other than the one lying open before us and consisting of the children themselves."
His theories – followed by Camphill School Aberdeen – involved integrating education and craft workshops with the principles of modern medicine, psychiatry and the circular economy, before they were widely recognised.
Camphill School Aberdeen was considered highly innovative at the time, especially when people with learning disabilities were often institutionalised.
In the more than eight decades since, the school has provided day and residential support to children and young people with disabilities in the north-east.
Camphill youngsters develop hands-on skills with 'meaningful work'
Today, it offers a mix of day and residential services that integrate education, life-long learning and care.
The school supports more than 100 youngsters with learning disabilities and additional support needs.
They take part in meaningful work, develop life skills, build friendships and grow in confidence and independence.
The idea is that each person reaches their fullest potential, no matter how vulnerable they might appear.
The Care Inspectorate report said: "People regularly had fun and were able to be involved in a wide range of activities and interests. This included workshops in bike maintenance, pottery and felt making.
"People were able to see the tangible output from their work, for example, from creating a piece of art or a fully operational bike, which provided a sense of achievement and pride."
One parent told inspectors: "My child is making more progress than we could ever have imagined, in a safe and nurturing environment where they were absolutely the centre of all decisions."
Another told inspectors that their child is "learning skills and has opportunities he would never have had before".
Inspectors were also impressed with the staff at Camphill School Aberdeen who "worked together well, in a positive and calm manner" and they found staff to be "approachable, helpful and friendly".
A parent added of the staff's relationship with their son: "They don't just care for him – they care about him."
Education includes beekeeping, soap making, woodwork and bike mechanics
Set over 50 hectares of open space and peaceful woodlands among alpacas and horses, Camphill School Aberdeen's services have developed significantly over the decades.
They now include an integrated nursery, primary and secondary school, which blends a therapeutic approach to education with the formal curriculum.
There are 10 residential homes, leisure and recreational facilities, alongside onsite medical care and 15 vocational arts, land and craft workshops.
Workshops include an organic farm and walled garden, traditional handmade candle making, beekeeping, handmade paper making, lino printing and art, traditional soap making, jewellery making, woodwork using traditional tools, felting, wool spinning, weaving using traditional looms, kitchen, bike mechanics and a zero-waste refillery and organic farm shop called Fruver.
The inspection report noted that the young people working at Fruver were "smiling and proud of the responsibility they had."
An integral part of the shared-living community is mutual care and respect for each other and the environment, enabling healthy, sustainable lifestyles.
This includes growing their own organic produce, reducing waste, decreasing carbon emissions and practicing circular economy principles.
Sharing day-to-day life is also "really important", the school told me.
Daily activities such as cooking, enjoying meals, laundry, and cleaning, as well as going on outings and celebrating events and birthdays, are therapeutic for the young people and ensure everyone makes a valuable contribution to the home.
All this creates familiar routines and natural rhythms – vital for young people with learning disabilities and complex additional support needs.
Big plans: The future of Camphill School Aberdeen
Camphill School Aberdeen is aiming to raise £10m in 10 years as part of their Building Futures, Transforming Lives campaign.
This will allow the school to increase its capacity by 60%, ensuring more young people have access to their services.
TV presenter and musician Fiona Kennedy recently helped break ground on construction of a state-of-the-art, sustainable 11-bedroom residential home on the charity's Murtle Estate.
It is expected to be completed by autumn 2024. The complex will include a zero-waste social enterprise called Murtle Market.