On reaching another anniversary I feel that this painful situation is never ending.
However, it doesn't feel helpful for us as a family to constantly talk to the media about how we feel.
It's an understatement to say anniversaries trigger painful, stressful memories.
But at the same time, we must acknowledge that Arlene's remains have still not been found and we just cannot give up on her.
Changing the law
For us as a family, it would be more helpful to talk about a way of moving forward – and the only hope we have is to see a review and change in legislation.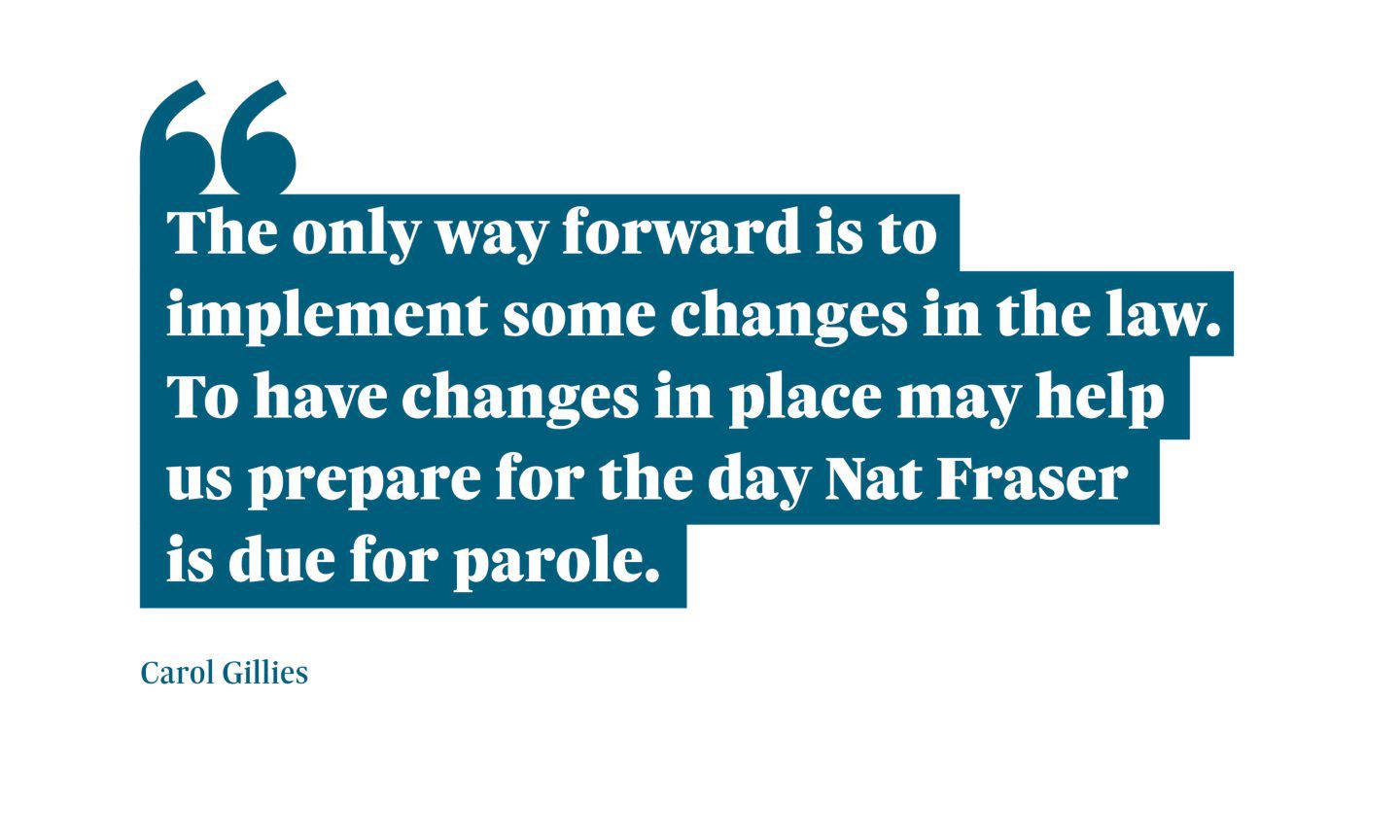 Although Nat Fraser is serving a sentence for Arlene Fraser's murder, we continue to face the fact that we must accept that he will never disclose where her remains lie.
The only way forward is to implement some changes in the law. To have changes in place may help us prepare for the day Nat Fraser is due for parole.
In my opinion parole boards tend to focus on the prisoner and his/her behaviour while in prison, and whether he should pose a risk on release.
In cases where information regarding where a body has been hidden, surely this behaviour must remain first and foremost in anyone's mind?
I also feel strongly that any parole board should have an entire and full insight into the effect non-disclosure has on families.
This information should be passed to the prisoner before the parole stage.
He must accept and acknowledge the true extent of his crime.
The only way he can do that is to show remorse and disclose the information.
Arlene Fraser's murder: 'The actual victim has no voice'
Some official bodies involved in the parole stages may consider us "too emotional" and incapable of making logical decisions about these matters.
However, to make a full assessment of the extent of the crime, surely it is time to seek involvement from those affected?
Particularly, in rare cases such as this, where the actual victim has no voice.
Furthermore, denying Arlene – the victim – the human right to a proper burial service is a 'criminal' act in my view. This is one of the issues that should be considered in any parole decision.
I don't see any reason or argument as to why a change of legislation cannot be put in place that encourages prisoners to disclose information.
I see this fair to both victim and perpetrator.
If information is not disclosed during the sentence, then parole should be denied.
'We need those with power to work on our behalf'
We shouldn't have to fight for this information.
Helen's Law has been passed in England and Wales.
This law means that criminals who do not disclose the location of the remains of their victims or the identity of victims of child abuse, cannot be granted parole for their offences.
Charlotte's Law is being discussed in Northern Ireland.
Why is Arlene being discriminated against as she has been murdered in Scotland?
As a family, we don't want or need sensational media headlines asking Nat Fraser where Arlene is.
We need official bodies – those with the power – to make change to work on our behalf.
We often ask ourselves – why does Nat Fraser continue to refuse to reveal the details of where Arlene's remains lie?
Is he evil, scared or does he just want to keep a hold over us?
Government comments
A Scottish Governments spokesman said: "We are committed to ensuring victims' rights are at the heart of the justice system.
"Last year, we added a specific provision in the Parole Board (Scotland) Rules 2022 to make it clear that 'failure to reveal a victim's remains' is a matter that the board may take into account when deciding a person's release from prison.
"The new rules came into force on April 1 this year.
"To go further and deny parole automatically raises potential issues of European Convention on Human Rights compatibility."
---
Read part 1 of our series next
The Arlene Fraser murder 25 years on: The inside story of how a loving mum was killed by her jealous, violent and controlling husband