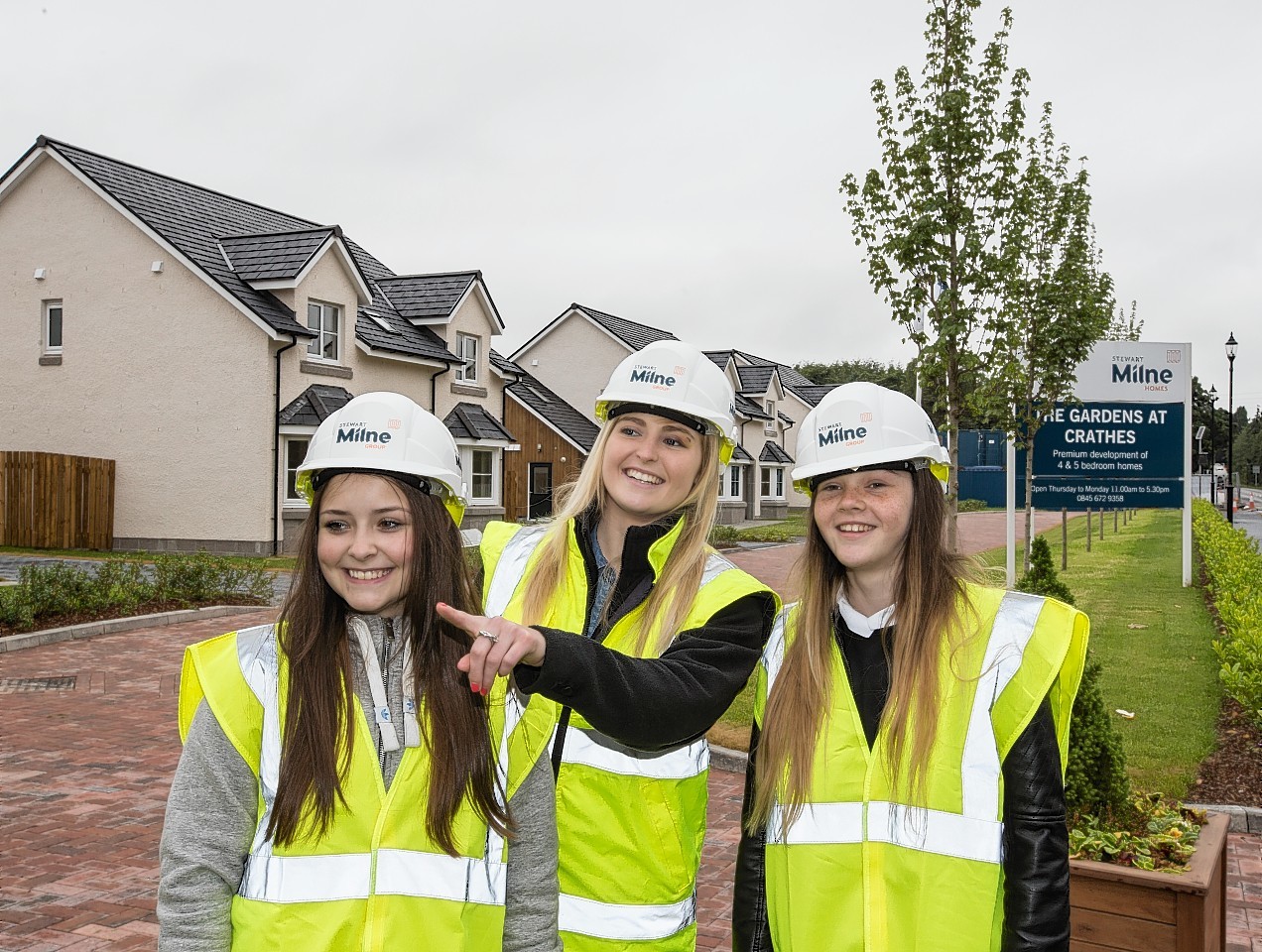 Female secondary school pupils from across the north-east gained an insight into career opportunities in construction during visits to residential developments under construction with the Stewart Milne Group.
Pupils from Mackie, Mearns, Northfield and St Machar academies visited Stewart Milne Homes North development sites at Crathes and Stonehaven as part of a series of "not just for boys" events during Women into the Built Environment & Property Week, coordinated by Skills Development Scotland (SDS). The initiative aims to attract more female school leavers into the construction industry.
A total of 28 pupils participated in the visits, which included opportunities to meet women already embarked upon careers with the Stewart Milne, a housebuilder and manufacturer of timber systems for the construction industry, employs more than 900 full-time personnel and more than 2,000 subcontractors.
Stewart Milne said it expects to create up to 250 new jobs across its UK operations this year and is keen to promote the wide range of interesting and rewarding careers available across its divisions to younger people.
Stewart Milne Group is keen to support the young women who participated in the site visits in a variety of ways, including with mock interviews, careers advice and guidance, work experience and mentoring.
Karen Catto, HR Director at Stewart Milne, said: "There has never been a better time for young women to consider careers in the construction industry, whether site-based or office-based. Their talents will be recognised and they will be respected and supported in the workplace. Jobs in the sector are available at all levels – straight from school, with a college qualification, as apprentices, or as graduates.
"The site visits at The Gardens at Crathes and Dunnottar Park in Stonehaven this week enabled us to showcase what's involved in modern construction, the quality and safety of the working environment, the strong team ethos and the welfare facilities provided.
"Some of our younger female employees were also on hand to share their experiences of working with us and to provide advice on why more young women should explore the exciting career opportunities that we and the wider industry offer today," added Ms Catto.
Apprentice Quantity Surveyor Abbie Duthie joined the Stewart Milne in 2012 and was one of the employees who participated in the events. She has already completed an HNC in quantity surveying and is now studying for a BSc (Hons) degree while working for Stewart Milne Homes North.
She said: "When I heard about the quantity surveying apprenticeship I wasn't really looking for anything as I was still at school.  But I knew I didn't want to go to university straight from school – I wanted to work. So an apprenticeship was the perfect opportunity for me to do that. I do think it is something young people should keep in mind when they are deciding what they want to do.
"Doing an apprenticeship creates a good balance between working and learning.  I learn a lot quicker by doing things rather than just sitting in a classroom, so I have found it a lot easier to actually be doing something while learning at the same time. Also, earning while I learned was definitely an advantage for me."
The Stewart Milne Group is current recruiting for its 2015 intake of 15 new apprentices who will join the business in August.