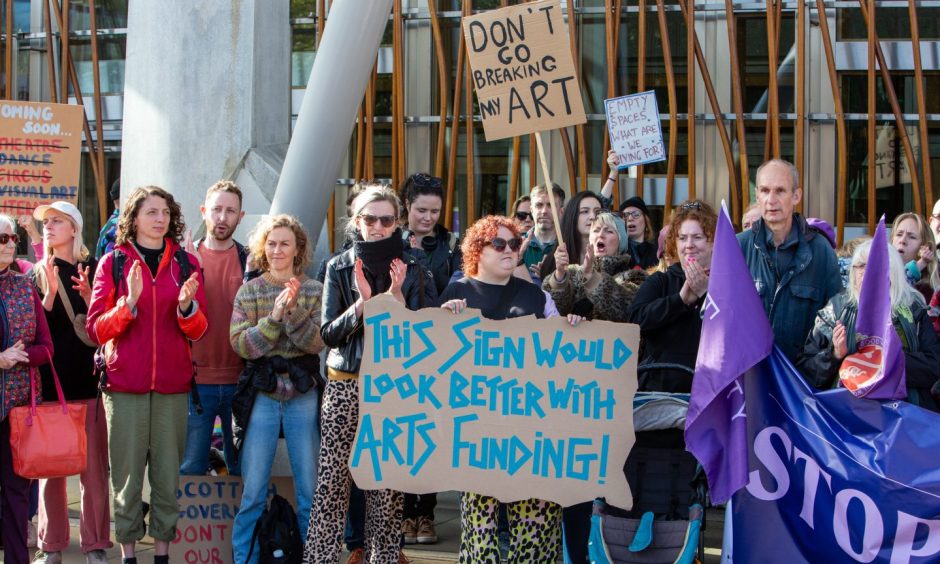 Scotland's Makar isn't a job for dissidents and agitators. It's rather like the Poet Laureate: a role designed to celebrate and commemorate, not excoriate.
Yet, when Kathleen Jamie went on social media last week and read out her poem in response to the news of a £6.6m cut being reimposed in Creative Scotland's funding, she offered a reminder that culture doesn't exist in a vacuum.
Instead, her words painted a compelling picture of what art means for thousands of people in her homeland. "It's a folk band crammed in the back of a van/On the low road to Mallaig/It's Medea in the village hall/Black Watch in Cambuslang.
"We don't sing from a balance sheet/We're here for that sob in the pibroch that wad gar a grown man greet/For art's the breath of human life/We are therefore we create/Though we manage it all on a shoestring or a wee totty share of the gate."
Protest over funding
Ms Jamie was one of many people to express anger and frustration at the decision announced by culture secretary, Angus Robertson, who has blamed "changing financial circumstances" and "persistently high inflation" for reducing the cash available to him.
And although Mr Robertson argued that Creative Scotland had "built up substantial funding reserves since 2018, when the Scottish Government began covering the shortfall in its National Lottery funding," the blowback has been furious, even from those who have backed – and continue to back – the Scottish Government.
Although Mr Robertson argued that Creative Scotland had "built up substantial funding reserves since 2018, when the Scottish Government began covering the shortfall in its National Lottery funding," the blowback has been furious.
The funding reserves  mean the groups Creative Scotland provides regular funding to will not lose out.  This week Mr Robertson pledged in parliament that the funding would be restored next year. When pressed by Labour's Neil Bibby if the pledge on future funding was "gold plated" Mr Robertson said: "it is".
Earlier this week more than 100 people, including members of performing arts and entertainment union Equity, gathered at Holyrood to protest the funding cut.
We all benefit from the arts
Meanwhile, Huntly singer, Iona Fyfe, is among those who have spoken out about the issue. She said: "Culture spending is not something to flip-flop over. It feeds into workers and consumers livelihoods', their mental health, their community. We are all richer for engaging in the arts and we must stand up against cuts at all costs.
"The Campaign for the Arts has yet again resorted to a petition calling on the Scottish Government to honour its commitment to provide 'an uplift of £6.6m for Creative Scotland for 2023-24', scrap any proposal to cut funding from the 2023-24 autumn budget revision, and commit to maintaining and increasing investment from 2024-25.
"I believe that fulfilment of all three objectives is the only way to regain the trust of vital art sector workers and organisations."
Award-winning crime novelist, Chris Brookmyre, summed up the mood when he tweeted: "[I] keep seeing people talking about 'robbing Peter to pay Paul' and 'making tough choices' re arts spending.
"All this does is underline how the arts are seen as a luxury, which is the essence of the problem. If a culture doesn't value its arts, it won't just be the arts that atrophy."
Culture should matter to all of us
His compatriot, Peter May, the best-selling author of the Lewis trilogy and creator of the Gaelic soap opera Machair, told me: "I am 100% in agreement with Chris.  I've spoken out often about library closures, and really this is just an extension of that.
"The arts comprise one of the essential pillars that prop up any society, along with education, health, and a fair and balanced legal system. To neglect any one of these is to undermine the very foundations of that society.
"We have to make balanced choices about what's important to our culture, and to ca' the feet from under our Scottish arts will only create a dangerous imbalance."
Peter May's new thriller paints an apocalyptic picture of the world in 2051
Culture's role in national identity
Some people might retort that if arts companies can't survive without subsidies, why should the taxpayer continue to fling money in their direction? Yet, others point out that there wouldn't be the breadth of talent in film, theatre, music of all varieties, art, dance and other forms of culture without a proper appreciation of a country's heritage.
After all, it's not as if Scotland has been splashing out on artistic endeavours. On the contrary, David Watt, chief executive of Culture & Business Scotland, told the Press & Journal that many organisations are forced to work hard just to balance their books.
He said: "Scotland's spend on culture as a proportion of GDP is amongst Europe's lowest, and the resources being allocated to our culture sector do not match the impact of its output. We know that the benefits of culture reverberate across multiple industries and the public sector in helping to address societal issues as well as playing an indispensable role in our national identity."
Fresh approach to investment
He added: "The Scottish government have consistently emphasised the importance of culture to our economic and civic wellbeing, yet recent funding decisions have been at odds with this narrative.
"Every year we see the huge contribution that Scotland's cultural offering generates economically– with the Edinburgh Fringe Festival, for example, being worth about £1bn annually to our economy as this unique cultural tourism asset draws in thousands of visitors from across the globe
"If the government values Scotland's culture as much as they say, they must prioritise the funding required to sustain and nurture it, so it can continue to deliver ambitious cultural experiences that make Scotland an attractive place in which to live, work and do business. Ultimately, this requires a fresh approach to investment in culture, so the sector receives support proportionate to the far-reaching benefits that it provides"
'The risks are increasing'
Creative Scotland has stated that it will be able to use National Lottery reserves to make up the shortfall, but warned that if the drop in budget was sustained, they would be forced to "pass it on to the sector", comprising nearly 120 regularly funded bodies.
Its chief executive, Iain Munro, told MSPs last month: "I think there is despair, there is despondency, there is disillusionment. There is a fear and people are exhausted in trying to keep the show on the road, literally, and that is vital for planning confidence.
"I think in these situations, as the perfect storm continues, and I have got to say it's growing stronger, the risks are increasing all of the time in relation to the potential for parts of the sector to be unsustainable."
Mr Robertson has striven to portray the situation as one where wage increases for workers in other sectors, such as nursing and teaching, have meant there is nothing left in the kitty for arts groups. However, not everybody, even in his own party, is convinced this addresses the problem adequately.
A Scottish Government spokesman said: "Officials statistics from the UK Government show that comparable cultural investment in Scotland is significantly higher than in England. Within the devolution settlement, Scotland has a largely fixed budget that is mainly derived from spending decisions of the UK Government.
The cupboard's bare for culture
"This is in contrast to other independent nations within Europe who have control of all fiscal levers and whose available budget is not dictated by spending in another nation."
Mr Robertson hopes to be able to help the beleaguered arts sector next year. But hope doesn't pay the bills for those who find themselves in the cultural slow lane.