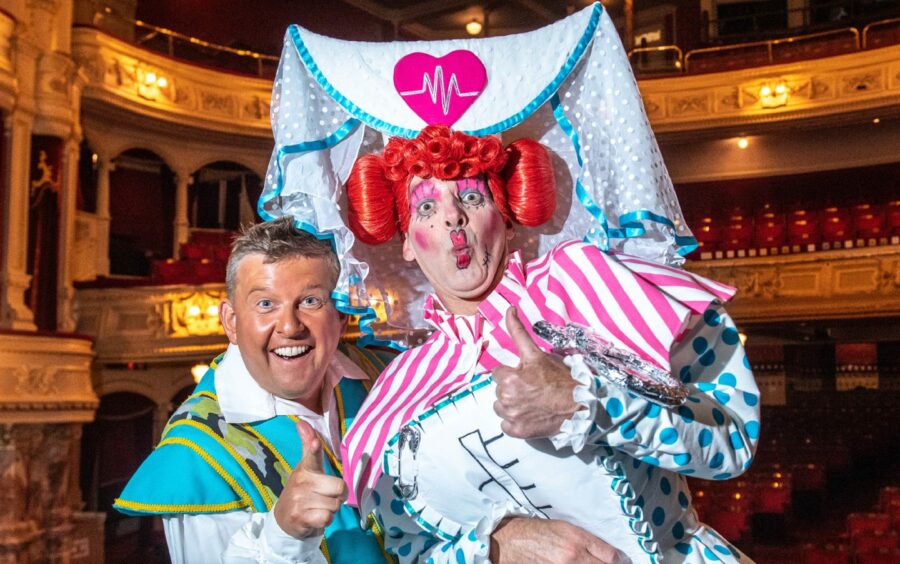 The arts aren't exactly in a good place these days. With several music and book festivals being axed across Scotland and some cultural hubs and organisations clinging on by their fingertips, austerity has cast a dark shadow.
Eden Court, the Highlands' biggest arts venue, recently reported financial losses of almost £900,000 for the last financial year and is facing soaring operating costs while ticket sales have not bounced back as much as hoped after the pandemic.
It was a gloomy picture, yet there was one sliver of comfort when trustees confirmed the notable exception was its "feel good" work, such as its winter pantomime.
The show in question, Peter Pan, was its most financially successful production on record and that has become a widespread story in an otherwise toiling arts sector.
Indeed, some of those involved on stage, both front of curtain and behind the scenes, have a short, sharp response to those who claim that panto's days are numbered.
Oh no, they're not. And, if anything, it's the pandemic which is behind us.
Rise in ticket bookings
Ticket bookings have risen significantly across the country and audiences are returning in substantial numbers to watch a mixture of family-friendly fun, topical references, special effects and the occasional star performer engage with crowds at a variety of different shows in Aberdeen, Inverness, and elsewhere in the Highlands and Islands.
But why? It wasn't that long ago that the doom-mongers were predicting that pantomime would become obsolete in an age where youngsters are accustomed to CGI-laden explosions and stunts in their favourite films and computer games.
Seeing such a turn-around is terrific
However, Alan McHugh, one of the stalwart figures who has both written and acted in numerous shows, is in no doubt about the reason why they continue to thrill and entertain new generations of theatre-goers.
In Aberdeen, Alan is synonymous with the annual Christmas pantomime and, in his hands, it's much more than old chestnuts roasting on an open fire. Because, almost every month of the year, as soon as one show has finished, he is scanning the news, feverishly writing scripts, learning lines and bringing new works to fruition.
He told me: "One of the main reasons why panto commands such huge audiences is due to its tradition. It should be a celebration of its local community – and I mean both the locale and its population in the definition of community.
"It is also a communal experience, a bonding process amongst the audience themselves. It's the only time a group of a thousand people will come together twice a day, six days a week, for six weeks from all walks of life – and all ages, genders and creeds – to urge good to win over evil, and for true love to win the day.
'This is a shared experience'
"This is a shared experience which is part of our national DNA, whose traditions have been passed down through the generations and continue to do so.
"Panto also provides a release – even therapy and respite from the realities of the outside world. It has the ability to take people out of their real lives for a short time, allowing them to leave their cares and worries behind for a while, and lose themselves in a joyous experience with their friends and family and, hopefully, make them leave the theatre more uplifted than when they arrived."
The world of make-believe
Danielle Jam, who recently starred in Dracula: Mina's Reckoning,  has never forgotten the thrill of her first experience of the smell of greasepaint and being transported into an enchanting world of make-believe.
The Aberdonian was just 10 when she watched a friend play one of the ugly sisters in the pantomime Cinderella at a local drama group. And she marvelled at the way he looked as if he was having so much fun; smiling and laughing in a collaborative tableau.
Danielle soon joined the same group and freely admits she became 'hooked' on performing. She also joined Aberdeen Youth Music Theatre and her involvement in amateur shows and school productions intensified her passion for acting.
And now, she is savouring being involved with the likes of McHugh, former Strictly star Brendan Cole and Paul J Corrigan – also known as Gary: Tank Commander – in the latest HMT production, Sleeping Beauty, which launches on Saturday December 2.
'Pantomime gets you into that Christmas feeling'
Danielle may be a rising presence in Scottish dramatic circles and has gained positive reviews with the National Theatre of Scotland. But she still relishes the warm festive glow created by panto, where everybody is offered the chance to join in the proceedings.
That's a pleasant alternative to well-reported situations at pop concerts where fans have been ejected for singing too loudly and at plays and cinemas where patrons have talked so loudly it has spoiled the enjoyment for those trying to watch the drama or film.
She told me: "Pantomime gets you into that Christmas feeling and there's something in it for any age group in the family. It's full of laughs, it's full of heart.
"So I think that everyone has their own reason for loving it. It gives you a space to sit back and be entertained for a while at what can be such a busy time of year and you get to spend some time with your loved ones alongside."
Louie Spence and Laura Main to star in Cinderella pantomime at His Majesty's Theatre
Fiona Kennedy is the equivalent of panto royalty. The Aberdeen singer-songwriter and star of stage, TV and radio, performed with an array of stars, including Eartha Kitt, Sylvester McCoy, Paul Nicholas, Leslie Crowther, Francie and Josie, Allan Stewart and was in Jack and the Beanstalk at the O'Keefe Centre in Toronto with Lionel Blair.
Amd she has always been fascinated by the fashion in which pantomime can open a child's eyes to the wonderful world of theatre and the wider sphere of arts.
It's their first time in a venue
She said: "Panto is often the very first time that kids go into a theatre, and from the second the curtain goes up they're involved in a rollicking good interactive show – bright lights, dancing, singing, larger than life characters, goodies and baddies, it has it all.
"There are good jokes, terrible jokes and a familiar story. Panto is just such a wonderful way to introduce children to live performance and there's usually enough innuendo to keep the adults more than happy too!
"It's marvellous to see kids' reactions from the get go. If a song or some dialogue is boring, you soon know about it. Young audiences can be the most discerning.
"I remember my husband Francis taking our eldest, Hannah, to His Majesty's Theatre when she was three and I was playing Cinderella.
"At the point where the Ugly Sisters made me tear up my ticket to the ball, there was deathly silence for ten seconds – then Hannah shouted from the stalls with a foghorn voice: 'Don't worry Mum, everything will be alright when you get home'.
"My Cinderella days were over!"
Eden Court CEO says huge losses won't close the curtains on Inverness arts venue
The curtain will be rising on several pantos in the weeks ahead and the interaction between the audience and the cast will be actively encouraged.
In the midst of wars, a cost-of-living crisis and political turbulence on the news, who wouldn't want to escape to a place where a positive ending is guaranteed?
Further information about pantomimes in Aberdeen and Inverness is available from aberdeenperformingarts.com and
imaginetheatre.co.uk/pantomimes/2023-sleeping-beauty-inverness