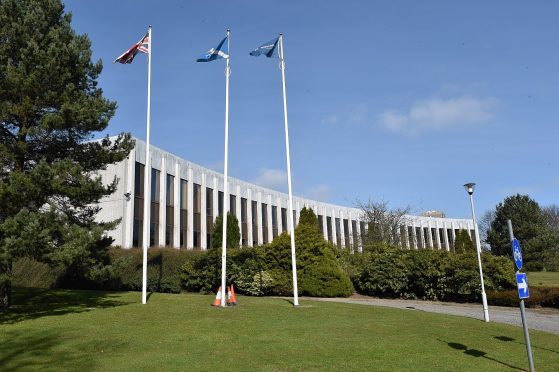 Aberdeenshire council has admitted that "unauthorised maintenance" was carried out on machinery that gave an electric shock to an employee after he speaks out of his worries that next time it could prove fatal.
The admission comes after the Press and Journal has obtained figures that show Aberdeenshire council has paid out almost £715,000 in compensation to employees in the last five years.
The authority topped the list of other councils in the region with Highland Council racking up £381,000, Aberdeen City £229,000 and Moray just £66,808 for the same period.
The latest incident at Stonehaven's Redcloak Waste and Recycling Centre thankfully did not result in a serious injury.
New figures obtained by the Press and Journal show the Aberdeenshire chiefs had to pay out £233,260 between 2012 and 2016 for falls at work, whilst also paying out with compensation claims worth £73,457 during the same period for "slips and trips".
Defective equipment and accidents whilst using machinery led to pay outs of £111,862 and £35,181 was paid out for people being "struck by an object other than a vehicle".
Senior insurance officer for the council, Ruth Kidd said that the changing claims culture means more people were coming forward, adding: "Claims can sometimes take months to go through, so this year's figures should increase over the rest of the year."
Defective premises were listed as one category of injury in 2014-15 which resulted in pay-outs of £20,687. Mrs Kidd was unable to comment on individual claims but suggested this would have been "a building issue" and the council had been at fault "from a facilities management point of view".
Accidents involving chemicals and electricity accounted for just under £18,000 of the cash and "using or being hit by a vehicle" racked up £92,328 of settlements.
"Manual handling" accidents paid out just under £77,000 and £53,913 was spent on "other" uncategorised claims.
A spokesman for Aberdeenshire council said that similar machines to the one in Stonehaven had been checked over "as a precaution" but that no faults had been found. He confirmed staff had been carrying out "unauthorised maintenance" on the machines and added: "Investigations into the incident and what caused it continue, however it seems to have been a static shock, rather than faulty machinery.
"As a precaution the piece of machinery involved and others like it at other locations have been temporarily put out of service. Any member of staff with concerns about safe working practice is encouraged to speak to their line manager immediately.
"The health and safety of all of our employees is of paramount importance and we take our responsibilities as employers very seriously and have policies and procedures in place to try to ensure the safety of all of our staff."
The Health and Safety Executive said it had "been made aware of the incident" and is currently liaising with Aberdeenshire council officers.
Danny Phillips UNISON spokesman said: "UNISON's number one concern is making sure we are all safe at work.
"Accidents ruin lives, for workers and their families – causing deaths and life-long disabilities. Behind these statistics are tragic situations for families who have to pick up the pieces.
"High standards of health and safety at work protect workers and the public. They also save employers money by ensuring they make fewer pay-outs. So UNISON will continue to promote health and safety legislation ensure employers carry out inspections, and make all our working lives safer."
A Highland Council spokesperson said: "The Highland Council takes its health and safety responsibilities very seriously. In addition to access to advice, support and training our staff have access to a wide network of consultation forums where health and safety issues can be discussed."
A spokesman for Moray council said: "Like all councils we take employee safety very seriously, and each accident is thoroughly investigated to ensure lessons are learned. Where appropriate, our insurers have made a compensation payment."
An Aberdeen City Council spokesman said: "The health, safety and wellbeing of all staff is a priority for the Council and we have robust policies and procedures in place to guard against injury in the workplace. We are committed to limiting and reducing the number of incidents impacting on staff, but where these do occur there are reporting mechanisms in place and each is fully investigated."