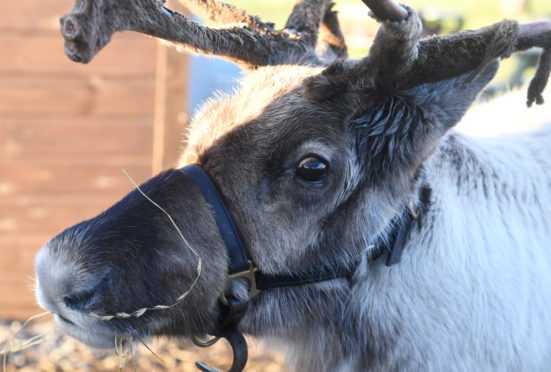 A popular reindeer centre has announced it will not reopen this year after being handed a "prohibitive" list of health and safety demands.
Ythanbank Reindeer Centre, near Ellon, has become a firm festive favourite with kids big and small since it was opened by local couple Scott and Elaine Jones in 2013.
Visitors can pat the reindeer and feed them moss while chatting to their handlers, see the donkeys, enjoy some time in the play area or get a photo in Santa's sleigh.
But following a complaint regarding "reindeer poo" sweeties – bags of chocolate raisins – being sold at the site, council officers paid a visit and made a series of requirements.
In an online message, Mr Jones said: "The council will not allow us to open again in our current format without installing warm or hot running water handwashing at various locations throughout the property at prohibitive cost, or double-fencing all animals and keeping the public at least 1 metre (3.2ft) away from them, which we refuse to do among many other demands.
"We have decided not to spend the money to implement needless changes.
"So, we will not be open to the public moving forward, the reindeer and donkeys will still live here as always."
Although there is no hot water, there are hand sanitisers attached to the fences near the animals.
A spokesman for Aberdeenshire Council said: "During a visit to the business in December, the owner was provided with proportionate advice for its 2020 activities on the provision of appropriate handwash facilities to safeguard visitors in line with guidance from the Health and Safety Executive.
"The owner was also reminded of the mandatory requirements for the correct labelling of re-packaged confectionery to safeguard consumers who may have allergies.
"While there have been no incidents at the site, public health is of paramount importance, particularly when people could become infected by micro-organisms such as E coli O517 through direct contact with contaminated animals, or contact with an environment contaminated with animal faeces where the necessary protections aren't in place.
"We are sorry to hear the business feels it cannot continue its festive programme, and we remain open to further discussion to see if a way forward can be found."
Aberdeenshire East MSP Gillian Martin said she was disappointed to hear the attraction would not open this winter, but said animal welfare and public safety are a top priority, adding "if the council has concerns, these must be addressed".
She added: "I am keen to offer my support to the owners and want to continue to work together with the reindeer owners and the council to find a solution, helping to ensure their popular festive programme can continue."