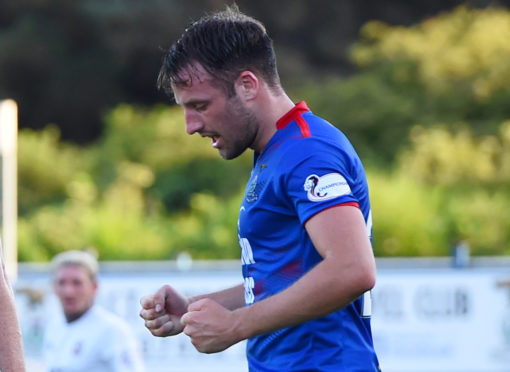 Recovering from a serious injury was new territory for Brad Mckay, who is relieved to be back in contention for Caley Thistle.
Defender Mckay has not played since being carried off in the opening day 4-1 loss to Dundee United on August 3, with scans subsequently revealing a fractured vertebrae in his back.
That meant a frustrating recovery process for Mckay, who initially struggled with the most basic of every day tasks – including tying his own shoelaces.
After nearly three months on the sidelines, Mckay has returned to the bench in recent weeks, with the former Hearts and St Johnstone player hoping to be in contention for today's Championship trip to Morton.
Mckay said: "For the first 14 days I didn't even know I had fractured it. I thought it was just muscular and back spasms, but I had to go and get an MRI scan which found there were two vertebraes fractured in my back.
"I know boys can do body weights if they have done their knees or ankles, they can tick over. I did my back though, which takes everything away from you.
"The first three or four weeks I couldn't even move. Getting in a car, getting in bed, having a shower, it took all the simple things away from me.
"I even had to get my mum to tie my laces.
"I was waking up in the middle of the night like somebody had stabbed me in the back, I was getting back spasms.
"After that you can crack on with the right sort of treatment and physio. I'm just getting over it now.
"I'm still not quite there, but it's just going to take time."
Mckay says the mental challenge has been just as much of a struggle to overcome, giving him a new-found respect for players who have battled long-term injuries.
The 26-year-old added: "Mentally it has been very tough. I've never really had any serious injuries in my career so far.
"I spoke to a few people who had actually done the exact same injury.
"The first bit of advice I was given was to take football away from everything – this is my life, I need my back for the next 40 or 50 years of my life.
"I was told not to rush it. I'm obviously a young man that wants to play and compete, but the first piece of advice was to look after it and not rush it.
"My agent had a manager he put me in contact with to get the right advice, as he did the same sort of thing.
"It's always positive that you speak to people who have done it and have recovered from it.
"It's something you can come back from, because at times it feels like you are never going to recover.
"I admire all the boys who have been out for a longer period than I have, and maybe come back and done it again. That takes serious mental strength."