Scots are rightly proud of a global reputation for the warmth of our welcome, the comforting embrace of our hospitality.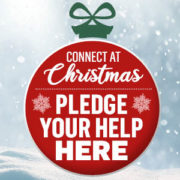 Yet somehow there are tens of thousands of people all around us who are lonely, often to the point of despair.
Connect at Christmas is our way of doing something about it.
On this page you will find all sorts of ways you can join the mission, from pledging your support to putting a snowman in your window.
Please help us spread some festive cheer.