Chris Pine has said that "God willing" Outlaw King will be appreciated by the Scottish audience.
The biopic depicts the story of how Robert the Bruce led 500 men to defeat the larger and better equipped English army during the 14th century.
Joined by his co-stars at the Scottish premiere in Edinburgh, the American actor told how he was excited to bring the Netflix film "home" to Scotland.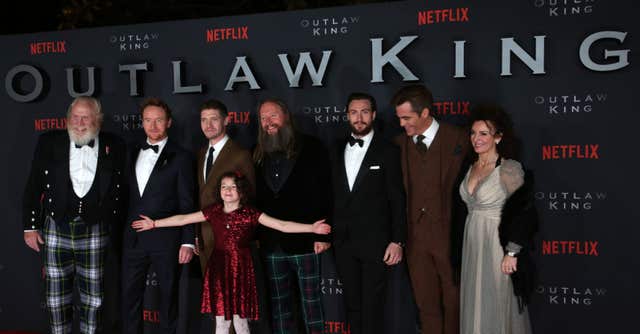 Pine said: "We're very excited to bring a Scottish film back to Scotland, it's a film about a successful campaign of your (Scottish) people to win freedom from a tyrant.
"It's nice when you get to show a film you've made – (spent) so many months on, worked so many hours on – and show to an audience that, God willing, will be appreciative."
First Minister Nicola Sturgeon was among the special guests attending the screening.
She said Creative Scotland funding was able to attract the production to be based in the country and build important relationships with Netflix.
Speaking from the red carpet, Ms Sturgeon told Press Association Scotland: "I'm really looking forward to seeing it, I think it's going to be absolutely fantastic.
"I think it's great to see the legend of Robert the Bruce brought to the screen, but it's going to be fantastic to see the wonderful Scottish scenery."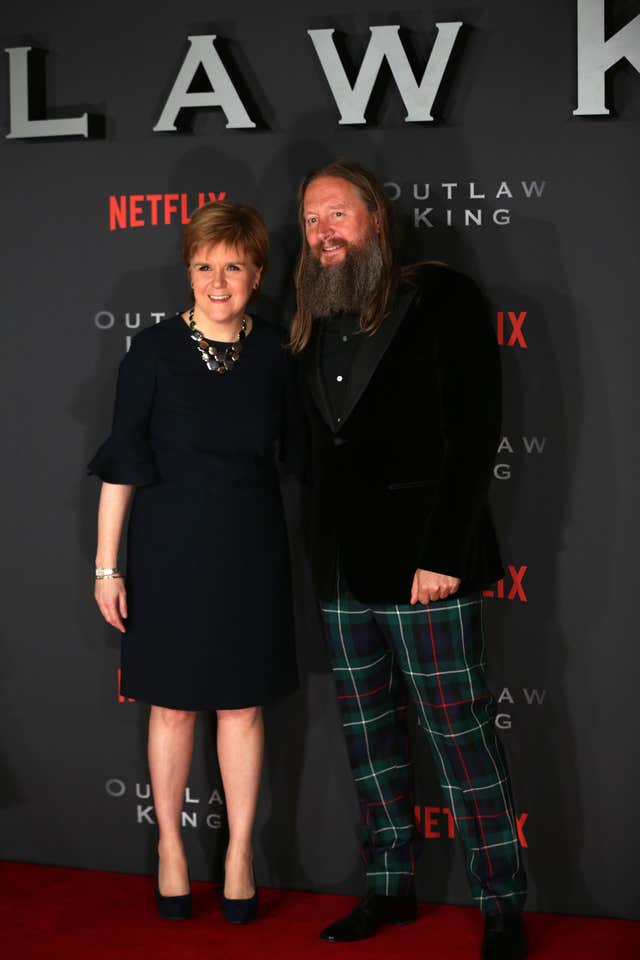 She added: "Hopefully it will not only entertain people, but encourage lots of people to come and visit Scotland as well."
Braveheart star James Cosmo plays Sir Robert VI de Brus – father of the protagonist – in Outlaw King.
The 70-year-old said there were similarities between the two Scottish history-based stories, but victory was the key difference.
Cosmo said: "Obviously, it has historical similarities.
"I guess the fact is, Robert the Bruce is the man who won the freedom for Scotland – he became King of Scots.
"At the end, (William) Wallace didn't make it but Bruce did."
Director David Mackenzie said he wanted to be involved with the project because it was a story which "needed to be told".
He said ideas about Robert the Bruce had been "lost in mythology" which needed a historical focus.
The 52-year-old, who used to live in Edinburgh, added: "It feels like we've done a great job."
The film was shot at various locations around the country, although a lot of time was spent in Glasgow and Edinburgh.
But Kick-ass actor Aaron Taylor-Johnson, who plays James Douglas, said it was time spent in the Highlands he will remember most fondly.
He added: "We stayed in Glasgow, filmed a little bit in Edinburgh, but when I was up in the Highlands it was just … being out in that landscape was just incredible."
Billy Howle, who plays the main villain the Prince of Wales, spoke of his excitement to be in the capital for its Scottish premiere.
He said: "I think it's an absolute privilege and a blessing to be opening this film here this evening."
Pine previously told the Press Association he would listen to YouTube videos of a Scottish rugby captain to work on his accent.
Tony Curran, who plays Angus Macdonald and is from Glasgow, had high-praise for his co-star's accent.
He added: "It's better than mine, actually."
The premiere was at Vue Omni on Friday.
Outlaw King is released on Netflix and in select cinemas on November 9.