A novel said to be one of the "most banned books in history" is going under the hammer.
Fanny Hill recounts the sexual adventures of a woman in Georgian Britain, and was repeatedly banned by shocked censors from its publication in 1748 right up until the so-called Swinging Sixties.
The book, which describes whipping, orgies and prostitution, is being sold at a Derbyshire auction house.
Penned by John Cleland while he languished in a debtors' prison, the novel, which includes pioneering depictions of same-sex desire, managed to shock readers for more than 200 years.
A copy of the book, also known as Memoirs Of A Woman Of Pleasure, is being offered by Hansons Auctioneers, after it was discovered by the company's expert on antiquarian books, Jim Spencer.
He said: "I came across it while I was cataloguing a box of cigarette cards. It was one of the most prosecuted and banned books in history, the first English pornographic prose.
"It even contains a 1960s newspaper article about police raids at a firm which had just published thousands of new copies of the book. So, clearly, it was still banned in the UK in the 1960s.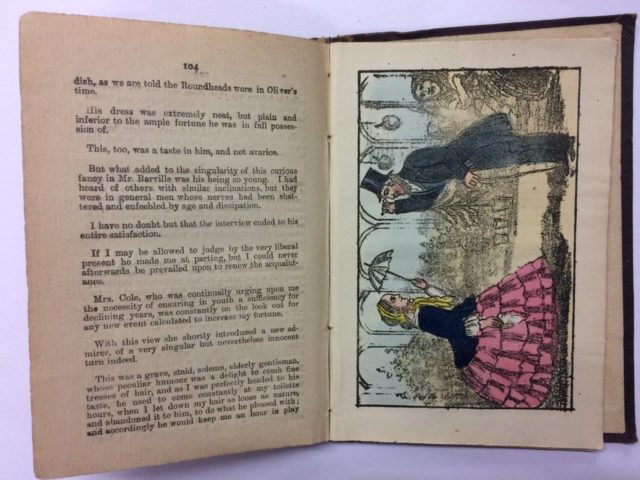 "They called it the Swinging Sixties but clearly erotic literature like this was viewed as too obscene to be seen by the masses half a century ago.
"These days, after the likes of Fifty Shades Of Grey, it's probably viewed as rather tame. It demonstrates just how much times have changed."
The book contains the confessions of the suggestively named Frances "Fanny" Hill, who recounts her amorous adventures to an unnamed character through letters.
Orphaned in Lancashire, she sets out on a series of varied sexual encounters and makes her living as a prostitute.
Her story shocked the Privy Council in 1749, who summoned the book's author for punishment, and continued to shock for more than 200 years.
The seizure of copies of Fanny Hill was authorised in 1964 by a London magistrate, and an injunction to block sales of the book was granted in New York in the same year. It was also the subject of a Supreme Court judgment in 1966.
Censors were aghast at the sexual passages which begin within the first few pages of the novel, such as this depiction of maid being seduced by another servant: "Knowing no ill, I feared none, especially from one who had prevented all doubt of her womanhood by conducting my hands to a pair of breasts that hung loosely down, in a size and volume that full sufficiently distinguished her sex, to me at least, who had never made any other comparison."
The novel, which results in Fanny being offered marriage after a lifetime of lasciviousness, has been praised for its unique style.
Writer Cleland, a frequent debtor, sold the rights to his work for £21 in 1748, and a copy of book from 1880 is now up for auction in Etwell in Derbyshire on January 22.
Hansons expert Mr Spencer said: "I have put a modest estimate on this book but the novelty factor could make it highly sought after.
"Last year, a Georgian sex manual from 1720 sold for £3,100 from an estimate of £80 to £120."