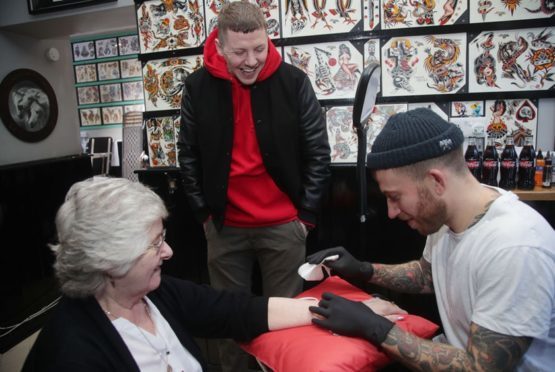 Rapper Professor Green has accused the Government of not caring about poor people.
The 34-year-old was speaking to the Press Association at the opening of a Coca-Cola tattoo studio in Shoreditch, east London, where he joined his nan, Patricia Robbens, as she got a temporary tattoo.
Footage posted on the singer's Instagram account last week showed the removal of an "anti-homeless" bar attached to a public bench in Bournemouth.
Asked about the incident, he said: "We had an idea of how we could replace the bars that are there for less than what the bars cost and actually create something which could help the homeless rather than hinder.
"There was no vandalism, there was no ripping off bars like it was reported in certain publications. It was a peaceful protest."
Green, whose real name is Stephen Manderson, has fronted a BBC documentary on homelessness in the UK and was critical of the Government's approach to the issue.
He said: "We should be looking to the Government for an answer. I don't think the Government gives a shit about poor people. I don't think they're doing enough at all."
Asked about the reasons behind the recent rise in homelessness, Green identified the Universal Credit system as a particular problem.
"People who are not used to getting large sums of money get their benefits all at once. It's been proven, it puts people into rent arrears, more people are being evicted, more people are ending up homeless. Our Government's the problem," he said.
The rapper also spoke about his decision to focus again on music after several BBC documentary projects.
He explained: "I realised seven films back to back has taken up quite a lot of time and I'd spent quite a lot of time in other people's lives and immersed in other people's worlds, so I've decided to get back in my own shoes and get back in my own world – do what makes me happy, and the focus is returning to music and I can't tell you what or when, but I can tell you very soon and it's unapologetic."
He was reluctant to reveal too much information about his forthcoming work, but said "the album is well under way".
He added: "I'm not going to tell you the title, I'm not going to tell you anything. It's going to be a big surprise.
"For me getting back in to music is … It's never been work, it's always been what I do to have fun. For me, when I take time off I go to the studio. So for me, it's my outlet, it's me unloading. It's my therapy."