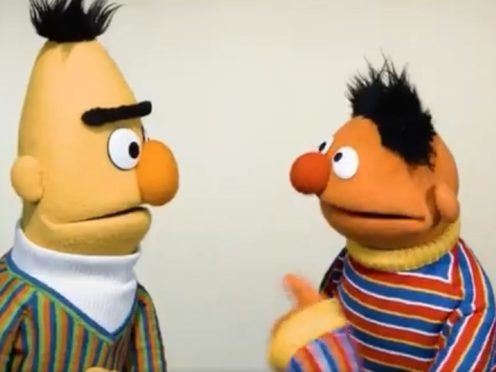 The creators of Sesame Street have said the show's characters Bert and Ernie "were created to be best friends" after denying the duo are a gay couple.
Sesame Workshop, the educational organisation that makes the US children's television series, said the show has always advocated for acceptance.
It comes after one of the show's writers said the pair were a couple and that the characters reflected experiences he had during his own relationship.
Mark Saltzman told lifestyle publication Queerty that the characters mirrored his dynamic with film editor Arnold Glassman.
Sesame Workshop wrote on Twitter: "Sesame Street has always stood for inclusion and acceptance.
"It's a place where people of all cultures and backgrounds are welcome.
"Bert and Ernie were created to be best friends, and to teach young children that people can get along with those who are very different from themselves."
A previous statement from the organisation said: "Even though they are identified as male characters and possess many human traits and characteristics (as most Sesame Street Muppets do), they remain puppets and do not have a sexual orientation."
Bert and Ernie have appeared on the preschool education programme since it first aired in the US in 1969.
The characters live in a flat together on the fictional street and sleep in separate beds.
The puppets were initially operated by Muppets creator Jim Henson and Star Wars puppeteer Frank Oz.
Sesame Street writer Jon Stone has previously said that Bert And Ernie's relationship reflected the real life dynamic between Henson and Oz.
Saltzman, a longtime scriptwriter on the show who also wrote more than 50 songs for Sesame Street, said he wrote Bert and Ernie as a loving couple.
He said: "I remember one time that a column from The San Francisco Chronicle, a preschooler in the city turned to mom and asked 'are Bert & Ernie lovers?' And that, coming from a preschooler was fun.
"And that got passed around, and everyone had their chuckle and went back to it. And I always felt that without a huge agenda, when I was writing Bert & Ernie, they were. I didn't have any other way to contextualise them."