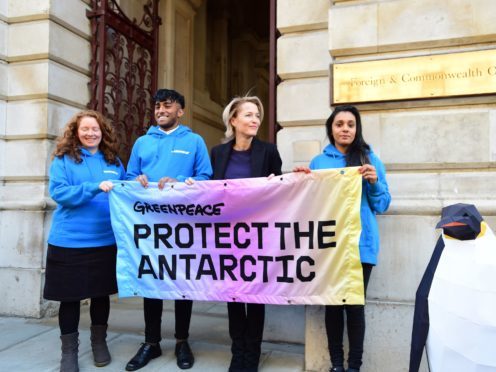 Gillian Anderson has backed calls for the creation of the largest protected area on Earth in the Antarctic Ocean.
The X Files and The Fall star joined Greenpeace to hand in a petition to the Government signed by more than 350,000 people in the UK urging protection of a vast area of Antarctic waters.
Greenpeace is calling for a 1.8 million square kilometre ocean sanctuary, which would be a safe haven to wildlife including penguins, whales and seals, to be created at a meeting of governments in Tasmania later this month.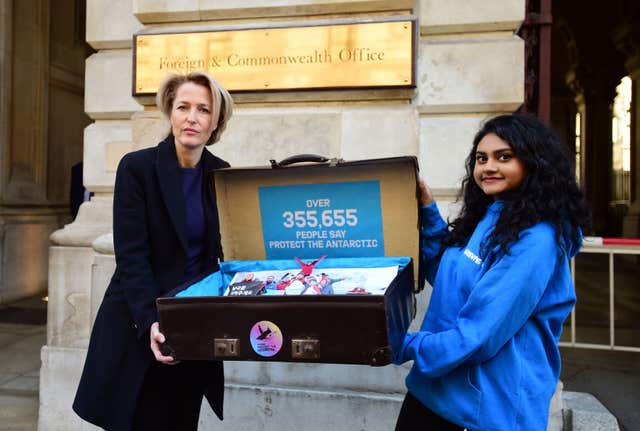 They were joined to hand in the petition at the Foreign and Commonwealth Office in London by one of the penguin sculptures which have been spotted "marching" for protection in cities around the world.
The petition backing an Antarctic sanctuary in the Weddell Sea, to protect its wildlife and habitats from damaging activities such as large-scale fishing, has been signed by two million people worldwide.
Anderson, a Greenpeace Antarctic ambassador, said: "Sadly we have been all too quick to exploit our global oceans, and all too slow to protect them.
"Despite scientists agreeing we urgently need massive ocean sanctuaries to protect marine life, progress is glacially slow.
"That's why I support Greenpeace's campaign to create a huge Antarctic Ocean sanctuary."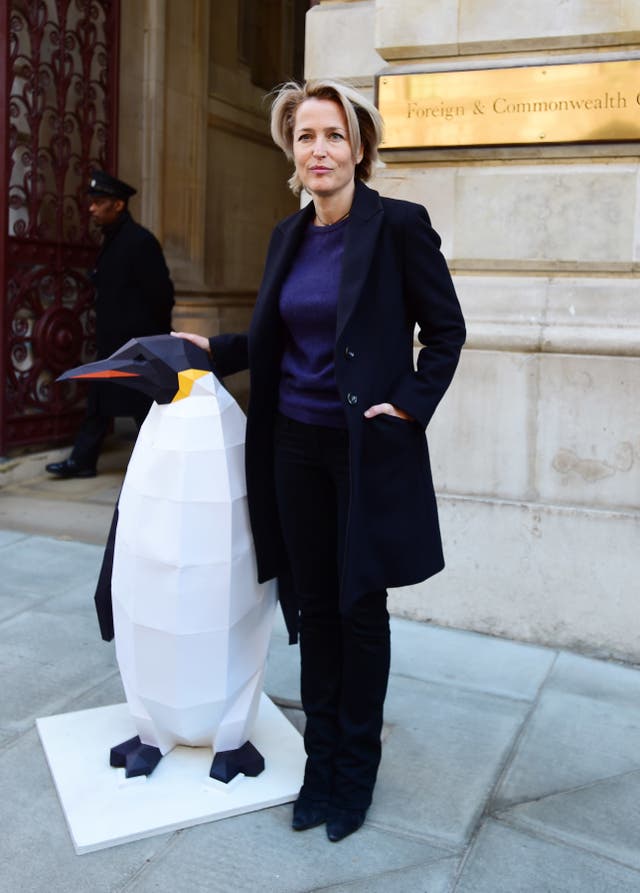 Louisa Casson, of Greenpeace's Protect the Antarctic campaign, said: "It's easy to feel remote from the other side of the planet, but what happens in the Antarctic affects us all.
"This month, governments have the opportunity to create the largest protected area on Earth – an Antarctic Ocean sanctuary – which would be a safe haven for penguins, whales and seals, put the area off-limits to industrial fishing and help to tackle climate change.
"The Antarctic doesn't have a voice, but we are a global movement of over two million people and we do," she said.
Ms Casson welcomed the Government's support for ocean protection and said 350,000 people were calling on UK officials to do everything they could to protect Antarctic waters at the meeting this month.
Sir Alan Duncan, Foreign Office minister for the polar regions, said: "The UK has been unwavering in our commitment to establish marine protected areas in Antarctica and we are using our voice internationally to make the case for practical action."