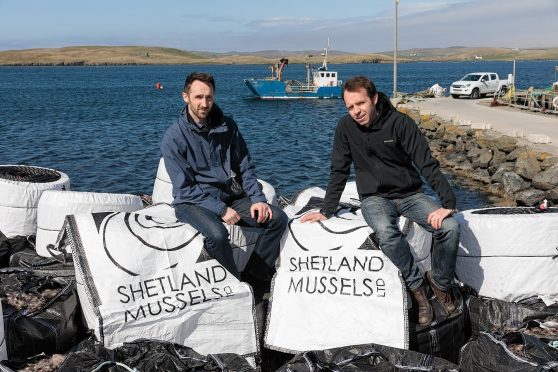 Shellfish firm Shetland Mussels aims to double production after a multimillion-pound finance package.
The Walls-based, family-owned business is a primary producer of rope-grown mussels.
It sells live product to markets throughout the UK both directly and through its membership of the Scottish Shellfish Marketing Group co-operative.
The business is owned by Lollie Tait and his sons, Richard and Michael.
It grew out of a fish farming venture, North Atlantic Salmon, with the decision to switch to shellfish production prompted by a trend towards bigger operators muscling in on salmon.
Shetland Mussels now supplies more than 900tonnes of the bivalve mollusc annually to restaurants, wholesalers and retailers throughout the UK.
A funding package from Clydesdale Bank will be used to support expansion, with part of cash allocated for specialised new production equipment.
It is expected this will lead to an increase in harvesting of more than double to 2434tonnes of mussels by 2020.
Richard Tait, co-owner and director, Shetland Mussels, said: "The support and commitment that the bank has provided will enable Shetland Mussels Limited to fully action its development plan by 2020."
Clydesdale Bank relationship manager Graeme Johnston said: "Richard and his team have shown great passion and determination to build this fantastic success story and our support reflects their commitment and entrepreneurial spirit."
Shetland Mussels already provides 17 jobs in Shetland and expects to increase this to 20 by 2020.
Growing demand for its Marine Stewardship Council-accredited shellfish reflects an industry trend.
Last month, figures from Marine Scotland showed mussel growers across the country enjoyed a boom in production during 2016.
A record 7,732 tonnes were harvested last year, contributing to a shellfish farming industry estimated to be worth about £11.7million at first sale value.
Shetland produced more mussels than anywhere else in the country, accounting for 74% of the total.
Scotland's National Marine Plan includes a target for "sustainable" mussel production of 13,000 tonnes annually by 2020.