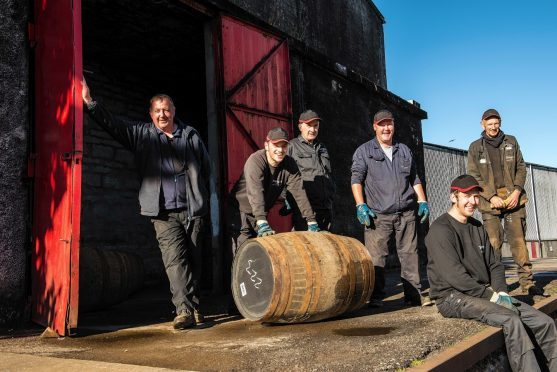 Tomatin Distillery chief executive Robert Anderson said yesterday the Highland whisky-maker had an "exciting future" after a change in strategy.
A £100,000 investment in developing the brand should also position it well for satisfying strong demand for its single malts, he added.
Mr Anderson, who has been with the business since 1988, was speaking after accounts released by Companies House showed Japanese-owned Tomatin grew pre-tax profits to £3.1million last year, from £2.7million in 2014.
But turnover slipped to £15.6million in the latest period, from £16.3million previously.
Mr Anderson, who last year was inducted into the Keepers of the Quaich, a prestigious group recognising outstanding contribution to the whisky industry, said the hit to turnover was caused by a highly competitive commodity market and the firm's "realignment" to focus more on core brands.
He added: "Over the past few years we have invested a lot of time in rediscovering our distillery, people and values, and refining our business model to move away from the bulk commodity market."
A 50% increase in single malt exports over the past three years was a growth trend the firm aimed to continue, he said, adding: "We have invested more than £100,000 into the development of the Tomatin brand, including a packaging refresh across our core range to cut through the crowded market.
"In 2015 we saw profits increase by 15% from 2014 which is extremely encouraging. It looks set to be an exciting future for Tomatin."
The distillery, about 15 miles south of Inverness, makes its whisky using water from the nearby Alt-na-Frith burn.
At one time it was the largest whisky-maker in Scotland, supplying most of its output to companies producing blended whiskies such as J&B, Chivas Regal and Johnnie Walker.
But hard times during the 1980s, when sales of blended whiskies slumped, forced the distillery into liquidation.
Japan's largest drinks producer, Takara Shuzo, joined forces with trading company Okura to buy the plant in 1986, creating the first fully Japanese-owned Scottish distillery.
Today, Tomatin is more interested in growing the brand in its own right and its single malts are sold in more than 50 export markets.
Meanwhile, accounts lodged at Companies House for Bathgate-based whisky-maker Glen Turner, which is owned by French billionaire businessman Jean-Pierre Cayard, show pre-tax profits of £13million on turnover of £73.3miillion for 2015.
This was compared with profits of £11.6million on turnover of about £78million the year before.