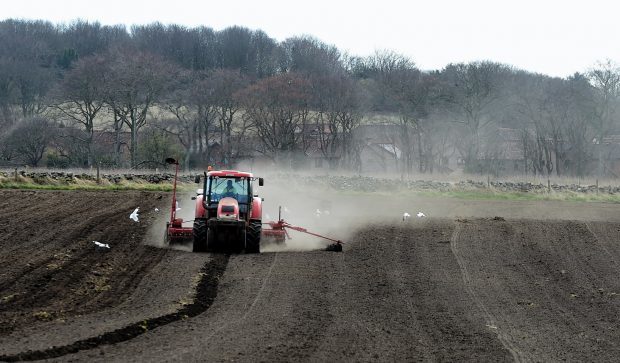 The Scottish farmland market is set to remain robust throughout 2017 despite uncertainty posed by Brexit, claim land agents.
According to Knight Frank's head of Scottish farms, Tom Stewart-Moore, the predicted sharp slide in land prices following the Brexit referendum last June was not as dramatic as feared.
He said: "The market in the second half of last year remained relatively resilient thanks to a lack of supply versus strong demand."
Data from the company's Scottish Farmland Index revealed an average price of £9,046 per acre for good arable ground sold during the last quarter of 2016. This was similar to prices achieved in the same period in 2015.
However, prices for average arable land were back 5% to average £5,154, while improved permanent pasture prices were back about 6% on the year to £2,583, and hillground was back 2% to £673 an acre.
CKD Galbraith said "headline figures" were still being achieved for land in parts of East Lothian, Angus and Fife, however the Aberdeenshire market had slowed down due to the fall in oil prices.
The company's Duncan Barrie said: "Productive bare arable land and hill ground suitable for planting remains in high demand and often attracting a premium at closing date."
He said he expected healthy competition in the Scottish farmland market throughout 2017 with bare land values maintained throughout the next 12-18 months.
Aberdeen and Northern Estates senior associate, James Presly, said a "prevailing mood of caution" was present in the north-east market as a result of falling oil prices, agricultural income pressures and delays in subsidy payments.
He said: "We have witnessed demand becoming increasingly localised with stronger demand and optimism emerging in areas with well performing and diversified farm businesses."
Strutt and Parker's James Butler said the 2017 market would remain similar to the market in 2016, with prime arable land and mixed arable and livestock farms of more than 300 acres proving the most buoyant.
He said uncertainty caused by Brexit, commodity prices, subsidies and tighter lending criteria all pointed to tight supply and price-sensitive purchasers.
Savills rural associate, Jamie Wedderspoon, said farmland prices over the next five years would be underpinned by a low amount of land coming to the market.
He said: "Despite the benefits of the weak pound on outputs and subsidies, we expect the average value of all types of farmland across Great Britain to remain under some pressure in the immediate short term as current debt in the industry filters into sales.
"The longer term outlook for land value remains very positive, with values forecast to grow by 5.5% across the UK over the next five years."