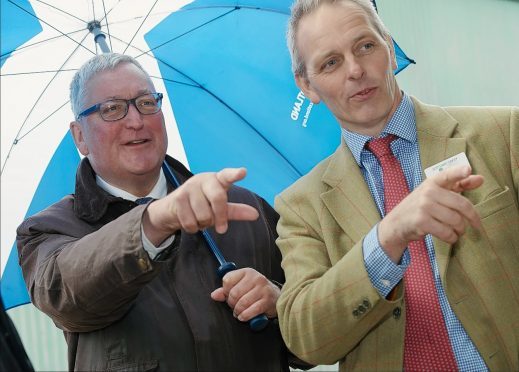 The Government's Beef Efficiency Scheme was derided as "damaged goods" by a leading Scottish farmer at yesterday's flagship Beef Event in the Borders.
Moredun Research Institute chairman, Ian Duncan Millar, was responding to the news that 335 farmers have withdrawn from the scheme this year after problems with administration and frustration over delays in the delivery of tags for animals.
Mr Duncan Miller, who farms near Aberfeldy, said he hadn't signed up for the Government's £45million scheme because he could see no benefit to his business.
"The Beef Efficiency Scheme is damaged goods in the industry and any copycat scheme for the sheep industry would suffer under the same reflection," he said.
Cabinet Secretary Fergus Ewing, who opened the day of farm tours, trade stands, seminars and demonstrations, admitted there had been difficulties, but he said they had been put right by Government. And he claimed it was too early to make judgements about the scheme's effectiveness.
"The purpose of the scheme was to support farmers generally as well as have better efficiency in their operations," he said.
"I hope it will eventually be shown to be a success for those who entered it."
The industry's promotion body, Quality Meat Scotland (QMS), was one of the architects of the scheme. Speaking at the Beef Event, QMS chairman Jim McLaren said he was disappointed that farmers were dropping out and he urged others to remain committed.
"They won't get back in and they'll miss out," he warned.
"This week we will be publishing the first data and results and it's looking hugely exciting. An email will be sent to all those involved showing generic data, such as information about calving age. Then farmers individually will get their own results as part of the farm advisory piece. I encourage people to stay in and stick with it."
Mr Ewing told hundreds of farmers gathered at Fans Farm near Earlston that Scottish Suckler Beef Support Scheme payments would be "flooding" into bank accounts from yesterday and were expected to be completed by the end of the month. Meanwhile Pillar 1 payments have been made to 10,000 farmers and Mr Ewing insisted the Government was "working hard" to complete all payments by the EU's June 30 deadline.
"We are determined to do everything we can to help Scotch beef and lamb achieve even greater success. You supply 40% of the total output of farming in Scotland and sustain 11,000 jobs," he told producers as they huddled in the rain.
"The Scotch beef sector is very important and we face many threats. We need to do all we can to protect tariff-free access to our markets."