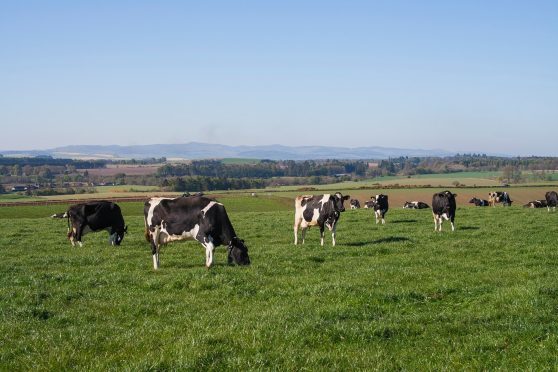 Farmed land collectively valued in excess of £7million has been launched onto the property markets across Tayside.
Included within the recent listings is a 571-acre block of prime mixed-use farmland in the heart of the Forfar countryside.
Baldoukie Farm, near Tannadice, has been run as a mixed arable and dairy unit by the Taylor family since the 1970s, producing milk for the nearyby North Street Dairy, in Forfar.
The unit, which is situated on the eastern periphery of the vale of Strathmore – one of Scotland's most productive farming counties – boasts a large range of modern farm buildings, 483 acres of Grade 3(1) arable land, 33 acres of pasture and a further 36 acres of open woodland.
"Decades of emphasis on stock in a rich arable area has resulted in a high degree of fertility," said selling agents Savills, which is presenting the farm for sale as a whole for offers in excess of £3.8million, including a five bedroom, three reception room farmhouse.
The Taylor's farming system has been based around both dairy and suckler herds, with cereals grown for stock feed and straw together with malting barley and wheat.
Around 80 acres have been let annually for seed and ware potatoes alongside vining peas, although there is further local demand for ground to rent for carrots, broccoli and shopping swedes.
Meanwhile, Shannoch and Saddlebank Farm, extending to 585 acres, is also now available on the property market in Perthshire.
The stock rearing unit, which comprises 158 acres of ploughable grass and 391 acres of pasture, claims a "spectacular setting" at the foot of the Logiealmond hills.
This unit has traditionally been managed as mixed with livestock, typically carrying 60 suckler cows and 300 ewes in recent years.
The predominantly Grade 3(2) permanent and temporary grassland is capable of providing good quality forage and being cultivated for fodder and arable crops to provide feed for livestock.
Available in four lots or as a whole, the unit is being marketed at offers over £1.56million, including a three bedroom farmhouse.
Lastly, an opportunity to acquire 249 acres of land at Maisondieu Farm, Brechin, is also offered for sale by Bell Ingram.
The productive block of Grade 2 and 2(1) arable land, which also offers development potential, if available in two lots, or as a whole for £1.85million.