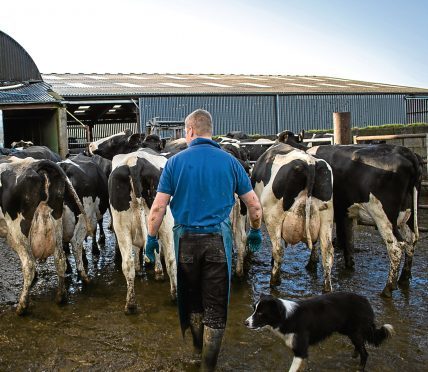 Farmers, crofters and rural workers have been urged to open up about their feelings in the run-up to Christmas.
A joint rural mental health campaign telling farmers Don't Wrap Up is being run this week by NFU Scotland, rural charity RSABI and the Scottish Government.
It sets out to highlight mental health rates in rural Scotland, explain what the signs of mental illness can be and point out the different ways to offer support.
"Depending on your circumstances, any time of the year can be hard but in farming and agriculture, there are a number of factors that can present a risk to mental health at the year end," said NFU Scotland vice-president Gary Mitchell. "A bad autumn and winter can have long-lasting effects to a farm's success, not to mention the other financial costs associated with Christmas.
"It can often be hard to see many people take time off at Christmas when you do a job that requires you to be there every day of the year, sometimes in the biting cold or pouring rain."
As well as encouraging people to speak up about any problems they may be facing, the campaign encourages people to offer support to those in need.
Mr Mitchell said: "If you think someone close to you may hurt themselves, you must speak to them straight away and ask them directly. Asking them directly if they need help can only make things better. Often an initial offer of support can make the world of difference. Seeking support from one of the many organisations out there who can offer advice can help you deal with the issue in a supportive way."
Throughout the week, NFU Scotland, RSABI, government and farming groups have been sharing different social media content to raise awarness of where someone turn to for help this winter.