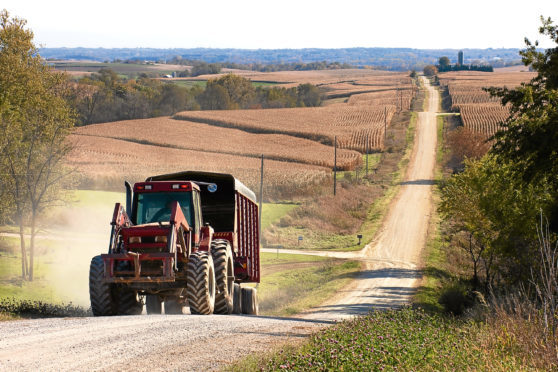 The family of a teenager who died after the brakes on the trailer he was towing caused him to crash is launching a campaign to encourage farmers to get their trailers serviced every year.
Harry Christian-Allan, 19, died after the brakes on a trailer he was towing on a tractor failed and he hit a bridge in Alconbury, Cambridgeshire, in 2014.
This week his employees, farming partnership G.W. Topham and Son, were fined £400,000 plus costs for breaching health and safety rules which led to his death.
Now in a bid to prevent similar tragedies from happening again, Mr Christian-Allan's family is urging farmers across the country to pledge to have an annual trailer service carried out by a professional.
They are also encouraging farmers and tractor drivers to perform daily checks to ensure farm machinery is safe before it is driven.
Supported by the Health and Safety Executive and Cambridgeshire Police, the Tilly Your Trailer campaign will involve serviced trailers being given a distinctive sticker so drivers will know the equipment is safe.
Each sticker will have the individual chassis number of the trailer on it, while trailer owners will also receive a certificate to verify that it has been checked by a qualified mechanic and is safe.
As part of the campaign, Mr Christian-Allan's family has also created an 18-point check list which it says farmers and drivers should carry out before they consider climbing in a tractor and towing a trailer.
They include checking the handbrake is working properly, checking hydraulic pipes for any signs of cuts, and ensuring tyres have the legal tread depth.
So far 100 farmers in the east of England have pledged their trailers to the campaign, while dealerships in Cambridgeshire are also taking part.
Jane Gurney, Mr Christian-Allan's mother, hopes to now expand the campaign so that farmers across the country will sign up to get their trailers annually checked.
"It costs £160 to get a trailer serviced, which is nothing when you earn a living from them," she said.
"Making sure your equipment is serviced not only ensures your trailer performs reliably and efficiently, but most importantly, safely."
Ms Gurney said the family will also be lobbying government to call for a change in law around trailer checks and maintenance.
She said signing up to the campaign would give farmers a paper trail to prove equipment had been checked in the case of an accident, and also give drivers peace of mind that equipment is safe to use.
More information is available at www.tillypass.co.uk.