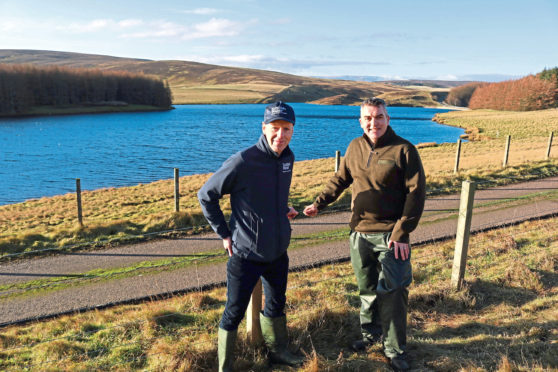 A new tenant farmer in the Borders is the first to take advantage of efforts by Scottish Water to make land available to new entrants.
James Royan has started a five-year tenancy on just over 14 acres of land owned by the utility at the Whiteadder Reservoir, near Duns.
The land was made available as part of the Scottish Government's Farming Opportunities for New Entrants (FONE) scheme, which encourages bodies, including Scottish Water, Forestry Enterprise Scotland and Highlands and Islands Enterprise, to release land for new farmers.
Mr Royan, who works for Police Scotland, has developed his Bennachie flock of pedigree Poll Dorset sheep over the past 11 years using informal grazing arrangements on a plot of land at his parents-in-law's farm
He said: "Like many others, I developed a passion for farming and sheep production at a very early age.
"But I have experienced how hard it is to realise the farming dream without the benefit of owned land.
"The Scottish Government's Farming Opportunities for New Entrants scheme has offered me an opportunity to build a viable operation through the security of a fixed-term tenancy agreement."
Scottish Water's land and property development manager Archie Macgregor, said: "We are delighted to be supporting the Scottish Government's FONE initiative and playing our part in helping new entrants get on to that vital first rung of the ladder in the farming industry.
"We have also just completed a tenancy agreement for a second starter unit on land of ours near Ballater, Aberdeenshire.
"We hope to be in a position to advertise more blocks of land under the FONE scheme in the coming year."
Rural Economy Secretary Fergus Ewing said: "New entrants drive innovation and best practice, improve efficiencies and contribute towards the overall economic vitality of the sector and I look forward to welcoming more people to farming under this scheme."