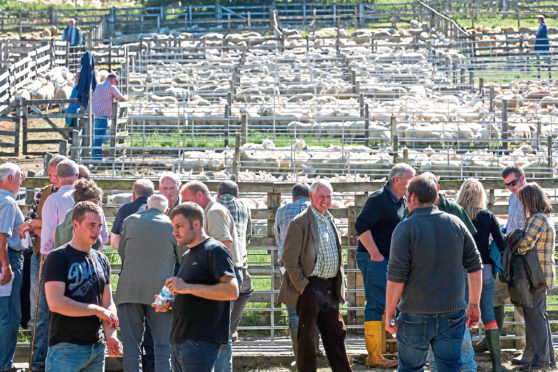 The UK Government has assured farmers and crofters that widespread livestock culls are not being considered as part of contingency planning for a no-deal Brexit.
The assurance from the Department for Environment, Food and Rural Affairs (Defra) came in response to concerns from the National Sheep Association (NSA).
This was after Brexit Secretary Stephen Barclay failed to rule out a mass cull of lambs if export access to the EU is cut off by high tariffs in a no-deal Brexit scenario.
"The slaughter of prime lambs ready to go into the food chain, providing high quality, premium lamb products is an absolute worst-case scenario," said NSA chairman Bryan Griffiths.
"NSA is continuing to work closely with Defra ministers and civil servants to provide industry support and prevent it happening."
He said the challenge for the UK sheep sector was the date the UK could crash out of the EU without a deal.
At present, nearly 40% of total UK lamb production is exported and the peak period for this is October.
"The most likely scenario after a no-deal Brexit is the UK trading on World Trade Organisation (WTO) terms," added Mr Griffiths.
"This in turn lands sheep farmers with the significant problem of tariffs, which for sheepmeat is somewhere between 40 and 50%.
"This is a problem that will need to be overcome as we currently send some 96% of our sheepmeat exports to the EU. However, the solution isn't just to shoot the animals.
"The government must work closely with our industry to be creative in its thinking to find the best way forward to underpin the sheepmeat export market until we can regain lost ground."
NFU Scotland president, Andrew McCornick, said a mass slaughter of lambs would be "publicly unpalatable, politically unviable and wholly unacceptable".
He said: "A no-deal Brexit and the associated tariff impacts must be avoided for the sake of every agricultural sector in Scotland.
"Recognising that our export markets for sheep are particularly exposed in the event of a no-deal, there are far better solutions to any potential market failure that would positively support the sector through such a crisis in a way that would promote continued production."
A Defra spokeswoman said Defra Secretary of State Michael Gove had given assurances in December last year that a mass slaughter of lambs or sheep was not being planned and this position had not changed.
She said: "A widespread cull of livestock is absolutely not something that the government anticipates nor is planning for in the event of no-deal.
"We have contingency plans in place to minimise any disruption and we have made it clear we will use our power to intervene to provide direct support to the most vulnerable sectors, such as sheep farmers, if required."