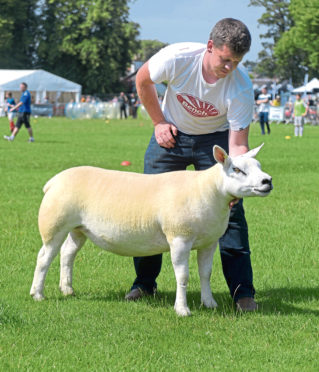 Early morning overcast skies soon gave way to brilliant sunshine for Deeside Agricultural Association's annual show in the idyllic setting of Banchory's King George 5th Park on Saturday.
The fun started on Friday with an amusing talk from the effervescent townsgirl-turned-Yorkshire hill farmer, Amanda Owen, the self-styled Yorkshire Shepherdess, star of the Channel 5 TV series, Our Yorkshire Farm.
Activities in the main ring ranged from a scarecrow competition and Highland dancing to a falconry display and a performance by the Granite City dog agility display team.
But the main attraction was the grand parade of prize-winning livestock which saw the unstoppable duo of Blair Duffton, from Huntly, and Rebecca Stuart, from Insch, continue on their winning way.
They repeated their success at last year's show and carried off the interbreed cattle championship for the third week running with their 14-month-old Limousin-cross heifer, I'll Be There, which was similarly placed at Echt two weeks ago and New Deer last week.
"She is a tremendous heifer with great character and style and will be hard to beat," said judge Andy Ingram, from Huntly, who placed her champion in the commercial cattle classes.
She went on to win the interbreed championship and lead Blair and Rebecca's team of Limousin crosses which won the coveted award for the best group of three beef animals against 11 other groups.
But the heifer had to give way for the champion of champions award, which was awarded to the interbreed sheep champion – a home-bred Texel gimmer from Aberdeen's Kenny Pratt, who runs a prizewinning flock of Texels on his farm of Oldtown, Peterculter, and scored a double in the Texel classes by also taking the reserve breed championship with a shearling ram bought at Carlisle last year for 18,000gn.
Texel judge Ian Murray, from Berwick on Tweed, said the gimmer was a worthy winner of the show's top accolade.
"She's a fantastic example of the breed," said Mr Murray. "She's bright and flashy with great conformation."
The four-year-old Aberdeen-Angus cow, Carlhurlie Essence, winning her second breed championship of the season for Graham Willox and daughter, Fiona, of Meikle Pitinnan, Oldmeldrum, stood reserve for the interbreed beef award, with the Lorimer family from Cadgerford, Kingswells, repeating their Echt reserve interbreed championship win with a different gimmer.
Also coming close for the champion of champions award was the overall winner in the heavy horse section, the eight-year-old Shetland yeld mare Warrackston Tamara, from Irene Spence and Kayleigh Nicol, which was champion at Echt.
Reserve was the Highland pony champion, filly Isla Mist of Coynach, from Tarland's Lynne McDonald.
Champion in the light horse section was an entry from Kirsty Birss with reserve going to Lynneann Cameron and Alison Walker.
RESULTS
CATTLE
ABERDEEN-ANGUS – Graham and Fiona Willox, Meikle Pitinnan, Oldmeldrum, with four-year-old cow, Carlhurlie Essence, by Balmachie Black Bard. Champion
at Fettercairn and reserve at Echt. Reserve – Graeme Miller, Birkenbower, Lumsden, with 19-month-old bull, Birkenbower Goliath, by Casino Buffon. First outing.
CHAROLAIS – James S Youngson, Westerton, Cullerlie, with yearling heifer, Cullerlie Nancy, by a Harvieston sire and out of the reserve champion, the six-year- old cow, Cullerlie Innes, by Balmyle Bollinger.
SIMMENTAL – Emma Smith, 12, Bankhead, Portlethen, with 21-month- old heifer, Forgeron Ivy, by Ranflurry Emperor. Reserve – J Stewart with bull, Drumsleed Islay.
LIMOUSIN – E and M Greenlaw with heifer, Ashview Opera, and reserve with cow, Gairnside Otto.
BRITISH BLONDE – Alison Watt, Birkenburn, Keith, with two-year-old in-calf heifer, Stathisla Maxine, by former Highland Show reserve champion, Strathisla Hero. Champion at New Deer and Echt. Reserve – Graeme Anderson, Beltie Cottage, Glassel, Banchory, with rising two-year-old bull, Glassel Neymar, by Strathisla Glen. Reserve at New Deer and Echt.
HIGHLAND – Grace Noble, Lochton of Leys, Banchory, with two-year-old heifer, Duchess of Grace, by Brogach 8th of Leys. Reserve at Echt and champion at Dalmally last year. Reserve – Robert Fletcher and Stacey Gibson, Leoch of Blairordans, Cushnie, with yearling heifer, Iona of Craigleak, by Step Dancer.
BRITISH BLUE – Gavin Greenlaw, Balgairn, Ballater, with 15-month-old bull, Greenlaw Nightmare, by Solwayview Dynamite, and reserve with two-year-old heifer, Greenlaw Milania, by same sire. Reserve at Tarland last year.
SALERS – David Watson, Darnford, Durris, Banchory, with five-year-old home-bred bull, Darnford Keene, by Fangio. Champion at Echt. Reserve – Jamie McIntyre, Milton of Cullerlie, Echt, with seven-year-old cow, Lisnamaul Floss, by Balnarry Samul. Reserve at Echt.
BEEF SHORTHORN – Alison Watt, Birkenburn, Keith, with two-year-old heifer, Strathisla Lauren, by Declan of Craigiebank. Reserve at Echt. Reserve – Rattray Estate Ltd, Peterhead, with five-year-old cow, Hurtiso Haylie, by Millerston Burns Supper. Bought at Hurtiso reduction sale for 2,200gn.
ANY OTHER BREED – Ian Skea, Kemnay, with 20-month-old Hereford heifer, Bennachie 1 Pansy 4th, out of Auckvale Pansy, and reserve with 15-month-old bull, Bennachie 1 Rex, out of former show cow Bennachie 1 Amy. Both by Bennachie 1 Masterman.
COMMERCIAL CATTLE – Blair Duffton, Huntly, and Rebecca Stuart, Insch, with 14-month-old Limousin cross heifer, I'll Be There, by Mereside Lorenzo. Bred by Stuart Raeburn, Forfar, and purchased from Michael Robertson, Fodderletter, Tomintoul, for £4,600 at the Spring Show. Champion at the Christmas Classic and Spring Show and champion of champions at New Deer and Echt. Same exhibitors reserve with yearling Limousin cross heifer, Cinnamon, by Lothario, bought at Thainstone for £4,000.
CARCASE CATTLE – Hugh Gordon, Clochnahill, Stonehaven, with heifer, and reserve with steer.
SHEEP
SUFFOLK – Mrs J A Lorimer, Cadgerford, Kingswells, with gimmer by Newwells Knock Out and out of a ewe by Ballynacannon Boss. Reserve – Graeme Christie, Newton of Balquhain, Pitcaple, with ewe lamb by Lakeview Under the Radar, and out of a ewe by Deveronside Doodlebug sire.
BLACKFACE – Alan Petrie, Meikle Coul, Kirriemuir, with gimmer by home-bred son of Newmill sire. Reserve – R C Myles and Son, Dalbog Edzell, with a ewe lamb by a home-bred son of the £4,800 Wooldfords Bulldozer.
TEXEL – Kenny Pratt, Oldtown, Peterculter, with gimmer by Crailloch Ammunition and out of ewe by a Hilltop Uncle Sam ewe, which was reserve interbreed at Banchory in 2016, and reserve with shearling ram, Knap Blazing Star, by Knap Alligator, and out of dam by Knock Papoose, shared with Jim Innes' Strathbogie flock, Huntly.
BLUEFACED LEICESTER – Rodney Blackhall, The Green, Raemoir, with a ewe lamb, by D17 Shrewbridge, out of a home-bred dam by a Mossvale sire. Reserve – Alison Ross, Tarland, with shearling ram.
BLUEFACED LEICESTER (CROSSING TYPE) – Chris Millican, Newton of Hassiewells, Rothienorman, with ewe lamb by J4 Nisbets, bought at Kelso in 2016, and out of home-bred ewe by 3,000gn G17 Mid Auchengray, and reserve with home-bred ewe by J17.
NORTHERN SHORT-TAIL – Ian Carnegie, Rickarton, Stonehaven, with ewe lamb. Reserve – Carol Collie with gimmer.
ZWARTBLES – David Miskelly, Corrybrae, Kildrummy, Alford, with home-bred gimmer, Corrynray Fanfare, by Greystone Disco. Reserve at Echt.
ANY OTHER CONTINENTAL BREED – Deborah Atkinson with shearling ram, and reserve with ewe.
ANY OTHER NATIVE BREED – D and B Henderson, Nether Toucks, Stonehaven. Reserve – Raymond and Beth Aitken, with ewe lamb.
CROSS SHEEP – David Black, Minard, Kirriemuir, with pair gimmers. Reserve – Lauren Jade Milne with three lambs.
CARCASE LAMBS – W and J Cameron, Keith, and reserve.
YOUNG HANDLERS – Senior – Faith Miskelly, Kildrummy. Intermediate – Wilson Stott; Junior – Emilie Anderson
HORSES
CLYDESDALE – Ian Young, Arradoul Clydesdales, Wellheads, Buckie, with two-year-old filly, Arradoul Olivia May, by Doura Woodhouse Real Deal. Champion last year and second at Highland this year. Reserve – Vic Peterkin, Auchenblae, with yearling filly, Bogton Kinder.
HIGHLAND – Lynne McDonald, Tarland, with filly, Isla Mist of Coynach. Reserve – Susanne Shepherd with gelding, West Lodge Alfie.
SHETLAND – Irene Spence and Kayleigh Nicol with eight-year-old yeld mare, Warrackston Tamara, by Scamells Criterium. Champion at Echt, bred by Ian Spence. Reserve – Christine Forbes with yeld mare, Lynemore Isla.
MINIATURE SHETLAND – Ann Irvine with nine-year-old home-bred stallion, Rocky of Haybrake, by Hazelhead Dynamite. Champion at Echt. Reserve – N S Wilson, Alford, with seven-year-old yeld mare, Mingulay Lilly, by Kentstone Kingfisher. Reserve at Echt.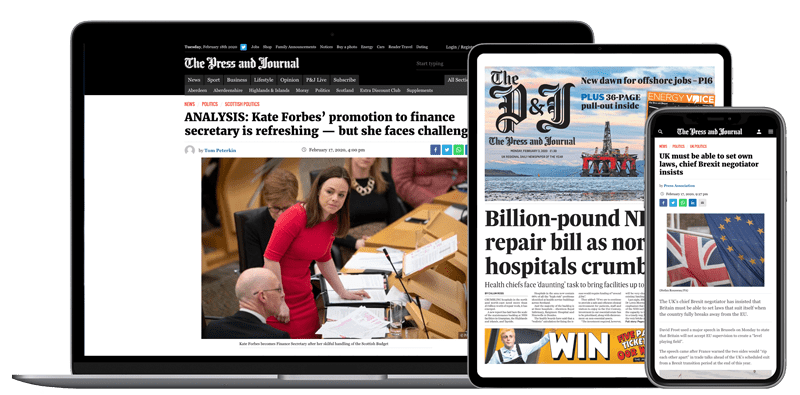 Help support quality local journalism … become a digital subscriber to The Press and Journal
For as little as £5.99 a month you can access all of our content, including Premium articles.
Subscribe