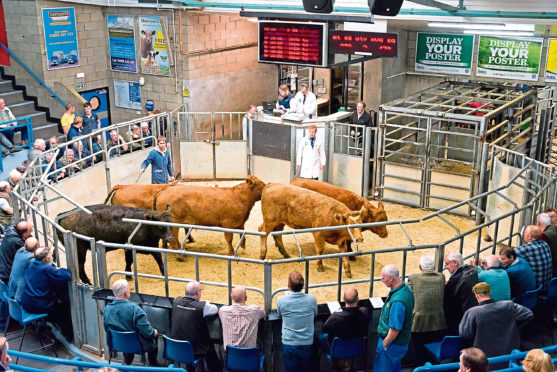 Store cattle remain in demand despite the downturn in prime beef prices, say Aberdeen and Northern Marts (ANM).
The firm's head of livestock John Angus said there were still finishers looking to buy stores despite the uncertainty in the sector and the reduction in prime prices.
He said overall store cattle prices were back by around 25p per kg on this time last year, with the values of short-term stores the most affected.
"There is plenty fodder and straw available on farms compared to this time last year so smaller store cattle should be cheaply wintered this year," added Mr Angus.
"The decline in the price of cereals will also be in the finishers' favour this year with reduced rates in both straw and barley."
He said breeding cattle also remained in demand, with cow and calf outfits at a recent dispersal sale reaching £2,500 despite an overall reduction in prices.
"It's evident that quality breeding stock is still wanted and with livestock farmers having more available fodder and straw compared to this time last year, those looking to replace will still be there to support the breeding cattle sales," added Mr Angus.
ANM prime and cull cattle manager Tim McDonald said the number of prime cattle going through the firm's sales rings had increased.
He said increased numbers of cattle outwith the specification of Scottish slaughterhouses were being offered for sale, which was attracting more buyers from the south who prefer heavier types.
Mr McDonald added: "There is an increased demand from local butchers, with handy weight heifers achieving 210p to 220p per kg."
Commenting on the cull cow market he said average prices were similar on the year, as producers weren't under as much pressure to offload cows this year.
He added: "Due to increased grass growth and more forage available, heavier and well-fleshed cows have been sold through the ring."