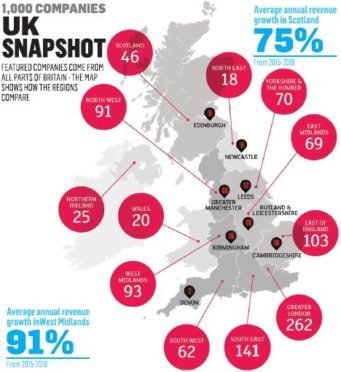 North and north-east businesses are well-represented in an annual celebration of some of the fastest-growing and most dynamic small and medium-sized enterprises (SMEs) in the UK.
The London Stock Exchange (LSE) Group 1,000 Companies to Inspire Britain report features 46 Scottish firms and 10 of them have roots in Aberdeen, Aberdeenshire and the Highlands and islands.
North-east names on the list include BrewDog, Duncan and Todd, JKR Contractors, John Ross Jr (Aberdeen), Joseph Robertson, Nicol of Skene and Whyte Crane Hire.
Flying the flag for the north are Lochaber firm Ferguson Transport and Shipping, Globus (Shetland) and Pat Munro (Alness).
Other businesses in the UK's top 1,000 SMEs include seafood firm Dawnfresh and cancer care charity Maggie's, which both have operations in the north and north-east.
Financial technology company DueDil combined key financial performance indicators and sector benchmarks to compile the annual list, which boasts a 10%-plus year-on-year jump for the number of Scottish firms making the cut.
The north of the border contingent has grown revenue at an average of 75% a year, compared with UK-wide growth of 71%.
Edinburgh is highlighted in the report as one of the top 10 cities in the UK for average turnover growth at 83%.
The document adds: "It may be best known in many parts of the world for its whisky and salmon, but Scotland has far more to offer than just those two products.
"These days, it is a diverse and vibrant part of the wider UK economy, with world-class technology firms, a string of highly-regarded universities, an important financial services industry and an energy sector that is branching out from a traditional focus on oil and gas into new areas like renewables."
It also highlights the 500 life science companies based north of the border as further evidence of economic diversity.
LSE chief executive Nikhil Rathi said the year-on-year jump was "testament to Scotland's entrepreneurial spirit and the economic and job creating potential of these businesses".
"Policy makers must continue to increase access to growth capital for these firms," he added.