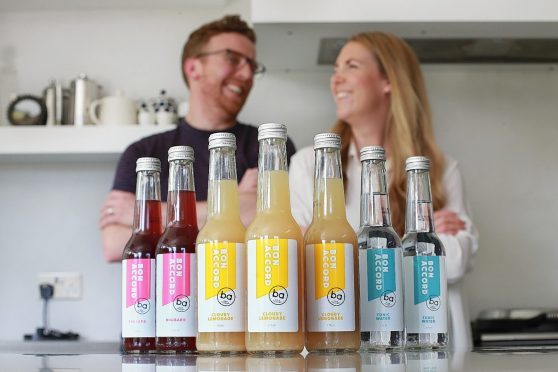 Nostalgic fizzy drink fans in the north are in for a treat after Bon Accord has been revived by the fourth generation of the former family business.
Karen Knowles,  the great-great granddaughter of the founders behind the Bon Accord drinks empire, has launched a new range of soft drinks. Except instead of sugary, neon-coloured Limeade and Raspberryade, the drinks are flavoured with natural sweeteners and real fruit juices to tempt the taste buds of the more health conscious consumer.
The new fizzy drink with the old name was released just seven weeks ago by Ms Knowles and her business partner, test chef Nathan Burrough. Already the range of drinks, which includes cloudy lemonade and a unique rhubarb flavoured tipple, is available in some specialist retailers including Raemoir Garden Center in Banchory and Gordon & MacPhail in Elgin.
The original business was founded in 1909 by the Robb family. The soft drinks manufacturer was based in Arbroath, with further depots in Torry, Inverness and Edinburgh. One of three major soft drink manufactures in Scotland at the time, along with AG Barr and James Dunbar, the firm had a fleet of trucks distributing their iconic crates of glass bottles to households across Scotland.
Ms Knowles, 31, who had been working in the food industry for ten years before coming up with the idea to reinvent the family business, remembers to old factory "fondly".
She said: "There used to be depots all over Scotland. It was set up by my great-great grandfather and expanded by my grandfather's generation. There were four brothers. One stayed in Arbroath, another boy went to Aberdeen, and the others to Inverness and Edinburgh."
She added: "My family was delighted it was up and running again. My gran is still alive and lives in Arbroath. She said: 'I just wish your grandfather was alive to see this, he'd be so proud'."
With her second child born just eight months ago, Ms Knowles said she conceived the idea for the new drinks range when she was "uninspired" by the sort of non-alcoholic drinks that were on offer.
"When I was pregnant and out with family and friends, I was struck by how uninspiring soft drinks were and how much sugar was in them.  It felt like there was a real lack of choice for adults. Noticing this gap in the market was the inspiration behind bringing back Bon Accord," she said.
"For me it is a bit of a juggle at the moment having a business and two small children but it's great."
The business partners, who manufacture and bottle the drinks under license near Glasgow, are toying with the idea of reinventing the old Bon Accord delivery van to drop of stock to retail outlets – except making this one an eco-friendly version.
"We want to be a big successful company. We have a passion for making these drinks for people that remember the brand but also for all the new customers that will try the drinks and become avid Bon Accord fans," said Ms Knowles.
"I want to be a business that creates jobs and becomes a big player in the food and drinks industry. We are at the early stages but we have ambitious plans," she added.