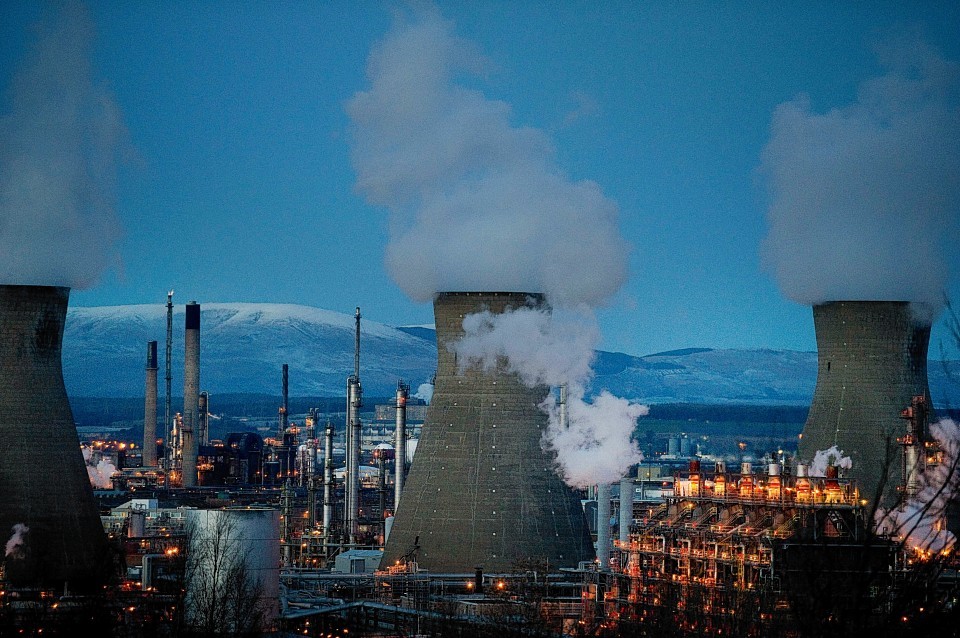 The owner of the giant petrochemical and oil refinery at Grangemouth is moving forward plans for a new terminal to process imported shale gas after securing a £230million loan guarantee from the UK Government.
Swiss chemical company Ineos Group said it was one of the most important infrastructure projects of recent times in Scotland and would protect thousands of jobs across the country.
The loan guarantee allows the firm to raise funds for new facilities, including the largest ethane storage tank in Europe, to process shale gas from across the Atlantic.
Ineos chairman Jim Ratcliffe said: "Our ability to import US shale gas underpins the future of manufacturing at Grangemouth and across many businesses in Scotland.
"It is a vital step towards preserving the long-term future of the Grangemouth site and those businesses that depend on its continued presence in Scotland."
The future of the site, which employs more than 1,300 peopl, was in doubt last year because of an industrial dispute.
But Ineos has invested £300million in it as part of a long-term survival plan to keep manufacturing petrochemicals there beyond 2017.
The company said it had finalised contract agreements with German specialist engineering company TGE Gas Engineering for the construction of the storage tank.
Chief Secretary to the Treasury Danny Alexander said more than £1billion of infrastructure projects had already been brought forward as a result of the UK Guarantees Scheme, while £36billion-worth of projects were pre-qualified.
He added: "Our action is creating the right conditions for more investment in our infrastructure, helping to build a stronger economy and a fairer society across the country.
"The Grangemouth guarantee is fantastic news for Scotland's economic future, and for the UK's energy security."
Scottish Finance Secretary John Swinney said: "The Scottish Government welcomes the announcement that loan guarantee funding has been secured and that significant new investment planned at the Grangemouth petrochemical plant will proceed.
"We are supporting these investment plans with £9million Regional Selective Assistance funding to secure the future of the Grangemouth facility and safeguard jobs in Scotland."
A spokesman for the Unite union said: "Grangemouth's future doesn't just rest on securing investment but also on the goodwill and hard work of a skilled workforce.
"It is vital that Ineos engages with its workforce and Unite in a positive manner to ensure there is the skilled manpower to deliver Grangemouth's future."