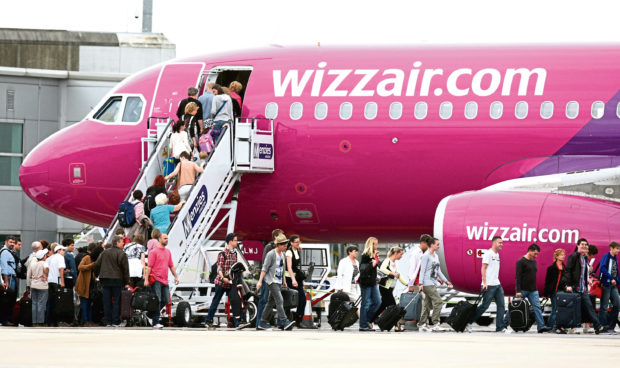 Eastern European budget airline Wizz Air was yesterday toasting record profits and an 18% year-on-year jump in passengers after launching 76 new routes in the first half of 2019.
Pre-tax profits rocketed to £332.4 million during the six months to September 30, from £173.8m a year earlier. Total revenue rose nearly 22% to £1.43 billion in the latest period.
Wizz, whose fast-growing network includes services between Aberdeen and Gdansk in Poland, delivered bullish guidance for the full year after a "supportive market" helped it shrug off rising fuel costs.
The Hungary-based carrier faced a 1.8% rise in the average cost of jet fuel over the first half, but a boom in passenger and flight numbers meant it spent 25% more on fuel overall, a total of £374m.
Despite this, the airline's net profit margin – the difference between revenue and costs – rose by 2.5 percentage points to 30.5%.
Chief executive Jozsef Varadi said: "Wizz Air announced some exciting business developments in the first half including a purchase order for 20 Airbus A321XLR aircraft, taking our committed fleet order to 268 aircraft.
"These industry-leading, cost-efficient aircraft will allow us to connect even more airports within our wide and diverse network."
London-listed Wizz – launched in 2003 and operational since May 2004 – currently operates 119 Airbus A320 and Airbus A321 aircraft on more than 710 routes, connecting 151 destinations in 44 countries.