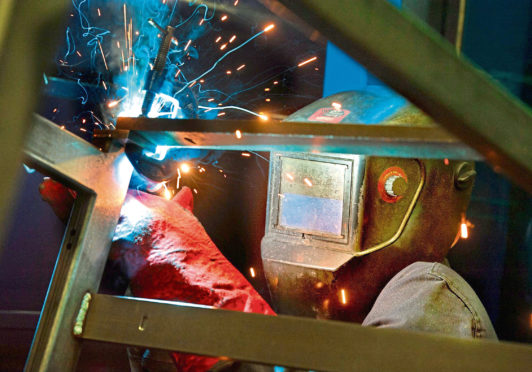 British manufacturers cut jobs last month at the fastest rate since 2012 as pressures from Brexit and a global trade slowdown caused the sector's longest decline since the financial crisis.
The IHS Markit/CIPS manufacturing Purchasing Managers' Index (PMI) dipped to 48.9 in November from 49.6 in October.
But the PMI stuck below the 50 level that divides growth from contraction for a seventh consecutive month.
This is the longest such run since 2009, as the country heads for an early election on December 12.
The index found that uncertainty around Brexit, attempts to slash costs, and redundancies had all played roles in the process.
"The pace of job losses also hit a seven-year high as firms sought to reduce overheads in the face of falling sales," said Rob Dobson, director at IHS Markit.
The sector took a hit as companies continued to eat up the stockpiles they had built up in anticipation of a no-deal Brexit.
Firms had worried they might not be able to get some supplies from Europe if Britain crashed out without a deal.
However, now it has been postponed, businesses have started to use these up and have reduced the purchasing of new products.
This meant that new orders fell for the seventh month in a row.
The drop in new export orders was also one of the steepest in the past seven years.
Andy Hall, head of corporate banking, central Scotland at Barclays said: "Another month, same old scene for manufacturers with pent-up investment frustration continuing apace as they wait for the economic and political clarity that will allow them to follow through on much-needed investment.
"In the interim, as output and new orders fall, it shouldn't come as too much of a surprise that the pace of job losses would rise, which it has done again in November.
"With any new year comes renewed hope, but the certainty the sector longs for needs to come pretty sharpish in 2020 to help bolster the performance of UK manufacturing."
Howard Archer, chief economic adviser to the EY ITEM Club, said: "Domestic demand for manufactured goods has been hampered by businesses' caution over investment amid a number of uncertainties which is limiting expenditure on capital goods.
"Meanwhile, weakened global growth and an uncertain trading environment is weighing down on foreign demand for UK manufactured goods."
Several businesses decided to shut their doors in November, with Mothercare among the highest-profile casualties.
Last week, Bonmarche announced it was avoiding collapse after being taken out of administration by Peacocks.
But around 240 jobs will still be lost as 30 stores are closed before Christmas.