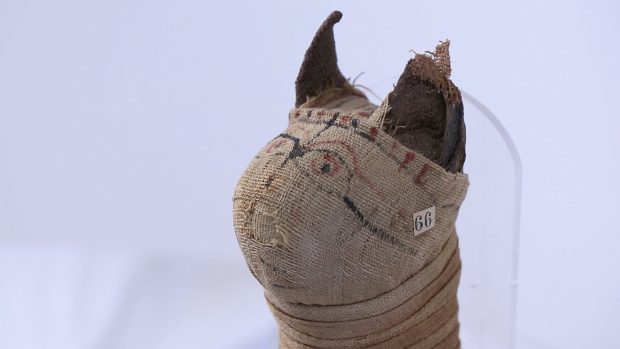 A mummified ancient Egyptian cat is among a host of artefacts from Aberdeen University's museums' collections, which will be shared around the world thanks to revolutionary new imaging techniques.
Photogrammetry involves taking hundreds of photos of an object at slightly different angles and "stitching" them together to create an interactive digital 3D model.
The process is already being used by the university's anatomy department to generate digital models of organs and other body parts to aid teaching and learning for young doctors.
Now, the same technology is being used to create virtual replicas of items in the museum's collections, including prehistoric skulls and ancient Greek pottery.
These artefacts are rarely handled as they are so fragile. But photogrammetry lets the public and students get to see them close-up and in very high detail.
In addition to the 3D model, the Aberdeen team put the feline mummy through a CAT scanner to reveal what was inside.
Neil Curtis, head of museums at the university said: "It looks like the cat's neck had been broken, so it's quite a gruesome tale really, but it gives some insight into what daily culture and customs existed around these temples in Egypt at that time.
"The reasons for digitising these artefacts are twofold – on one hand, we're thinking about the students in Aberdeen and the chance for them to fully take advantage of our wonderful museum collections.
"In addition, we are able to make these models available online so anyone in the world can access them."
The mummy recently went on display, along with around 150 pieces from the university's ancient Egyptian catalogue, at the Lokschuppen Rosenheim exhibition centre near Munich.