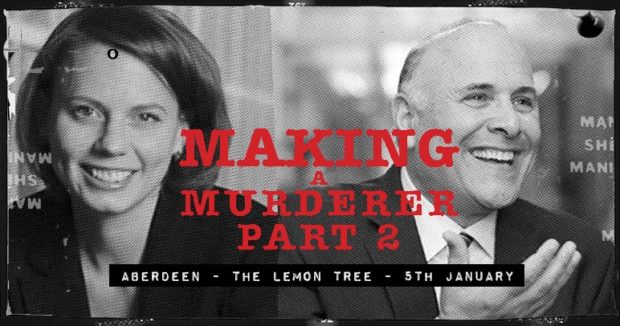 "Why would anyone confess to a crime as serious as murder, which they could be sent to death row for, when they did not do it?"
That was the question at the heart of a talk which led audiences at The Lemon Tree in Aberdeen on a fascinating and occasionally disturbing journey into the American justice system.
The saga of American teenager Brendan Dassey's dubious conviction for murder has gripped viewers of true crime Netflix sensation Making a Murderer over the past few years.
The series, which shines a light on the legal case against Steven Avery and his young nephew, has sparked discussion and debate throughout workplaces and family homes across the world and thrown up numerous questions about what really happened to victim Theresa Halbach in Wisconsin in 2005.
Hundreds of north-east fans got the chance to put their own queries and speculation to two of the foremost authorities on the case during the two sold out shows on Saturday evening.
Laura Nirider and Steven Drizin are the post-conviction lawyers who have been fighting to overturn Brendan Dassey's conviction – secured after he confessed during a police interview later described as unfair on the 16-year-old with "intellectual disabilities".
They described how unscrupulous police officers often prize securing a statement over getting the truth, and revealed that Mr Dassey's predicament is far from rare.
The pair made for pleasant company and their passion for the case, and determination to secure justice, was infectious.
Although the subject of the talk remains incarcerated, the event ended on the upbeat note that there was "plenty of fight" left in the pair of legal aces battling for his release.
Mr Drizin, who was earlier tickled by a marriage proposal among the questions submitted by audience members, concluded by saying Aberdeen would "always have a place in his heart" after the second show, added due to popular demand, also sold out.
Those looking for juicy insights which did not make it into the Netflix series may have left feeling they did not get their £30-worth, however.