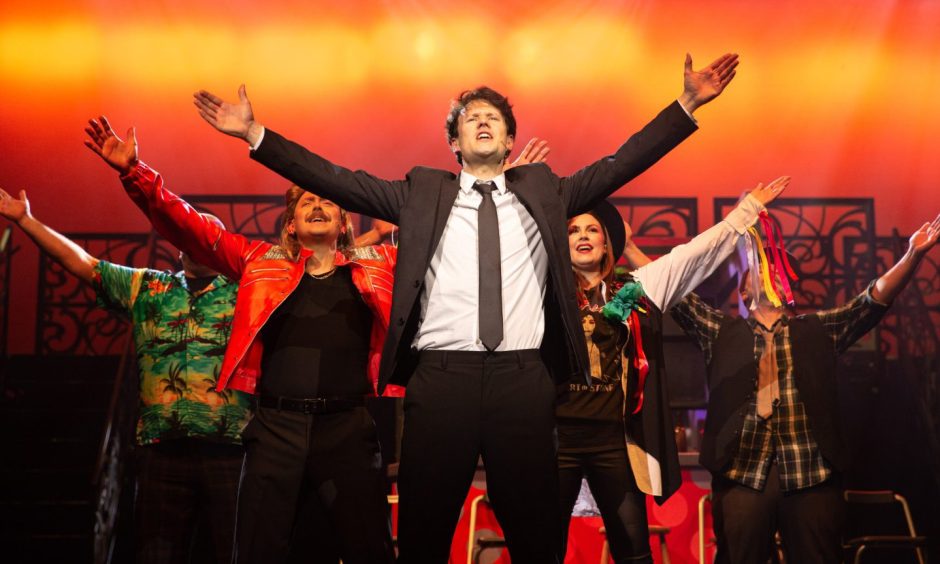 I spent my childhood with my toes pointed and my hair scraped back into a tiny bun on top of my head. My parents spent it in the car park outside the dance studio.
I lived and breathed dancing, singing, acting and often hairspray. I was headed for the West End until my mum told me failed auditions were part of the industry. A crippling fear of rejection brought me back down to earth.
Now 26 and with regular shifts that allow it, I have joined my local company, Inverness Musical Theatre. Our production of Made in Dagenham takes place in March and while my accent is shocking, the bug is back.
I never would have expected the range of people I have met in the last month. There are doctors, students, teachers, mums, dads, grandparents, all with one shared love: theatre.
The benefits of local theatre are obvious to me, but I wanted to see what others think. How easy is it to come to later in life? With the aftermath of the Covid years still more present than any of us care to recognise, does the future look bright for local companies?
Steph Smart
When was the last time you walked past a playpark and gave into the temptation to go down the slide, or soar into the air on the swings, legs outstretched and head flung back?
"We feel like we need an excuse to be playful," said Steph Smart.
"That's something I would love to change, to help people remember what it is to have fun."
Steph, born and raised in Nairn, has more than 15 years of experience working in performing arts education. She directed Inverness Musical Theatre's The Wedding Singer earlier this year, and is currently in the process of setting up new drama groups for people across the Highlands.
By making her classes process-driven rather than performance-driven, Steph wants to "make a difference" and create spaces for people to be themselves.
Steph said: "In society I think we are constantly fed from social media what we are supposed to be doing. Are we achieving enough? Are we being productive enough? Are we this or that sort of parent? Just being in a room where the objective is to allow you to figure out who you are in the real world and not this presented ideology.
Physical and wellbeing benefits
"Don't get me wrong, I think social media can be great and has its place, but one of the challenges is that we don't necessarily have the critical thinking skills to question whether something is real, we take it at face value.
"We have lost this individual identity because we are putting pressure on ourselves to be a certain way and do a certain thing.
"Being in a room and creating characters could be escapism, liberating and incredibly powerful, just taking an hour or two in a week that is just your time to be who you want to be."
The benefits of amateur dramatics cover both physical and mental wellbeing, and Steph hopes to make these benefits available to as many people as possible by making her workshops affordable.
Through the years, she has seen her theatre positively touch hundreds of people, even those who didn't come to it until later in life: "You can't predict what the change will be as it is different for every person, but I do believe there is change that happens for the better.
'It's about connection'
"I am yet to see someone in my 18 years in this field leave a drama class and feel worse for it.
"To anyone nervous to give it a go, I would say you are not going to know what it is until you try it."
Though the resilience theatre has shown in the years since Covid is "incredible", Steph fears we have a long way to go before the value of the arts is fully realised.
"I do worry about the industry and what is going to happen," she said.
"I think this is now where the performing arts needs to step up more and show the value of what we do. It's not just a bunch of people in a room pretending to be a tree, it's about connection and exploring what it means to be human."
Karen Cranfield
"I had treatment for breast cancer in 2011 and felt I wanted to do something for myself that made me happy."
Karen Cranfield had taken her kids to rehearsals at Phoenix Theatre in Aberdeen for years, and dabbled in theatre when she was younger, but finally took the leap to rejoin herself in 2017 at the age of 53.
"It was a bit daunting, feeling that I might be the oldest cast member, but I was brought up to believe that it's better to try and fail than never try at all, so I threw myself in," she said.
"My son, Matthew, was supportive but told me I could only join if I wasn't going to be embarrassing.
"Sometimes you just have to push yourself so you don't have regrets, that was very much my mindset. I hadn't thought I would be doing productions in my 50s but age is just a number."
Phoenix Theatre's adult company has around 50 members, most of whom come back and audition time and time again. They are currently in the midst of rehearsals for their winter show, Scrooge.
'Good for the soul'
Jonnie Milne, a committee member, said the group luckily hasn't suffered long-term following the pandemic: "Phoenix Theatre's The Hunchback of Notre Dame was the north-east's first post-lockdown production when we opened at the Aberdeen Arts Centre in January 2022. At that time, we had a small number of regular audience members expressing anxiety at the thought of sitting in a packed auditorium.
"But over the past couple of years, we have found that there was a greater number of people who were determined not to let theatre die out – amateur or otherwise – and things have thankfully returned to normal with our audiences.
"We've had similar experiences within the company itself – as people's love for theatre, and the relationships they've built, helped them push through so much uncertainty to come out all the more grateful for the experiences they get to have on stage together."
Karen has noticed a change in herself since joining: "I have realised that life is about doing things that make you happy and musical theatre for me is one of the things that is very good for my soul.
"There's nothing quite like singing an amazing song in harmony with a group of great singers and the buzz of a live audience responding to the acting and singing."
To anyone who is nervous about the prospect of getting involved in theatre later in life, Karen says: "Go for it – life is too short to live with the regret of 'I wish I had…'"
Carole Williams
When it comes to getting an overview of the amateur dramatics scene across Scotland, Carole Williamson is the woman to talk to.
With a background in musical theatre from so young she had to beg her local company to let her join, she is now national drama advisor for the Scottish Community Drama Association (SCDA). The association aims to develop community drama across Scotland and Carole's role is to visit groups across the country delivering workshops and support.
"These groups are places to be your true self," said Carole.
"It is so unique and it is one of the only things you do purely for the love of doing it."
Finding and affording venues are continual challenges for amateur dramatic groups, with Covid the final curtain call for many.
"For some it came down to costs not being feasible, for others it was numbers," explained Carole.
"What I have had reported to me though is that audiences are stronger than ever. I feared we would struggle getting people back, but that has gone by the wayside."
This is what gives her the confidence that, despite all the challenges of the last few years, local theatre is here to stay.
"The case has been made and is recognised for the benefits of the arts to the health of individuals and communities," said Carole.
"There aren't big professional theatres all over Scotland, so you need it to bring people together. There is something special that happens to people when they sit together and watch a performance. These groups are catalysts for so much more than just a bit of drama."